UDaily is produced by the Office of Public Relations
The Academy Building
105 East Main St.
Newark, DE 19716-2701
(302) 831-2791

McNair scholars bake pies for those in need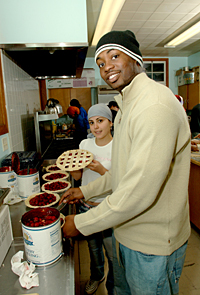 Melody Casagrande, senior mathematics and economics major, and Chinedu Nworu, senior biology major, prepare holiday pies for those in need.

3:57 p.m., Nov. 22, 2005--The smell of freshly peeled apples wafted through the kitchen at St. Thomas Episcopal Church, on Friday, as UD's Ronald E. McNair Scholars and University Undergraduate Scholars prepared 120 apple, cherry and pumpkin pies for folks who can't afford to buy them.

The sign over the entrance to the kitchen read, "Welcome to Pie-Palooza," and just beyond the sign, honors students rolled out dough for crust, cut decorative crisscrosses, peeled apples, opened cans of cherry and pumpkin-pie fillings, and, working in sync, prepared holiday pies for the Ronald McDonald House, Meals on Wheels, the Friendship House, St. Patrick's Center and the Ministry of Caring, in time for Thanksgiving.

"There really is a sense of family here," Michelle Filling, McNair graduate assistant, said. Filling, who has been working with the students to put the project together, said they decided that they wanted to do something for others this year.

She said they made the crust from 5-10 p.m., Thursday, prepared the pies and baked them far into the night on Friday, then, delivered them between Saturday and Tuesday.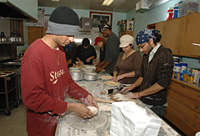 In the foreground (from left) Vivek Patel, senior biological sciences major; Claudia Rodriguez, junior, international relations major; and Parag Mital, junior computer and information sciences major, prepare dough for 120 pies.

Filling said the 290 cups of flour, 135 cups of sugar, 38 cups of Crisco, 80 cans of pumpkin filling, 30 cans of cherry filling, 150 pounds of apples and pie boxes were donated by local merchants, including, Acme, BJ's, Safeway, Super G, Fulton's Paper, U.S. Foods, Wal-Mart and Milburn Orchards. Kitchen space and oven time were compliments of the church.

Maria Palacas, McNair program director, said, "I am grateful they were willing to put their holiday celebration on hold to think of other people. We often talk about how the spirit of McNair is centered in excellence, and these students well reflect that spirit."

The Ronald E. McNair Scholars Program honors the African-American astronaut who died in the explosion of the Challenger space shuttle in 1986. The University Undergraduate Scholars Program helps students from diverse and disadvantaged backgrounds get into graduate programs of their choice and obtain funding and is modeled on the McNair program.

Article by Barbara Garrison
Photos by Kathy F. Atkinson
E-mail this article
To learn how to subscribe to UDaily, click here.