Two UD students win Marshall Scholarships
5:53 p.m., Nov. 29, 2005--Two University of Delaware seniors, Thomas Isherwood and James Parris, have been awarded Marshall Scholarships to study and conduct research in the United Kingdom for up to three years beginning next fall.
The competitive scholarship, which was awarded to 43 students nationwide, covers university fees, cost of living expenses, an annual book grant, thesis grant, research and daily travel grants, fares to and from the U.S. and, where applicable, a contribution toward the support of a dependent spouse. The total value of each scholarship is about $100,000.
UD was among only six universities with more than one Marshall Scholar this year. The others are Stanford, Yale, Princeton, Georgetown and the U.S. Military Academy.
"These students and their predecessors who have won national and international awards have established a wonderful legacy for the University of Delaware," UD President David P. Roselle said. "Their successes most assuredly speak to the quality of the student body and they also make evident the careful, competent mentorship of members of the faculty. All of us at the University are very proud of our students and faculty, alike."
"Thomas Isherwood and James Parris have been outstanding students at the University of Delaware, and the entire UD community should extend congratulations on their selection as Marshall Scholars," Provost Dan Rich said. "It is gratifying that UD is among a very small number of universities with more than one Marshall Scholar."
Parris, a senior biochemistry major with a minor in biology from Newark, will join the University of Newcastle upon Tyne to study for a master's degree in human genetics in the first year and conduct supplemental research in his second year.
Isherwood, a double major in economics and international relations from Wichita, Kan., also will earn a master's degree in political science next spring and then study modern Middle Eastern studies for at least two years at Oxford University.
Parris, who earlier this year was one of three UD recipients of the 2005-06 academic year Goldwater Scholarships, which are designed to encourage outstanding students to pursue careers in the fields of mathematics, the natural sciences and engineering, said he plans to do embryonic stem cell research and eventually become a professor, so that he can teach and run his own research laboratory.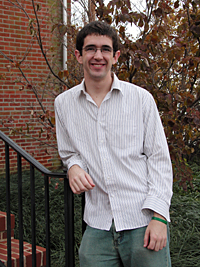 Thomas Isherwood

"The chance to work with stem cells in the UK is an incredible opportunity because the field has progressed much faster there than in the U.S. due to federal funding restrictions," Parris said. "The University of Newcastle upon Tyne has an especially strong program in stem cell biology, and I look forward to working there. Having a strong background in ES cell research will be very beneficial when I come back to the U.S. to pursue a Ph.D."

Last spring, Parris published a first-author paper detailing his research on the role of the protein JAM-A during embryonic development. He recently started a new project to determine if JAM-A is an important factor in breast cancer growth and metastasis.

"My research adviser, Dr. Ulhas Naik in the biology department, has given me countless opportunities to succeed and has been an incredible mentor to me," Parris said. "I cannot imagine an environment more conducive to success than what I have been given at UD. I don't believe any of this would have been possible at another school. The University also has a good system in place to help make applicants as strong as possible."

Last spring, Isherwood was one of two UD students who were named 2005 Truman Scholars. The scholarship provides $30,000 for graduate study. Truman Scholars also receive priority admission and supplemental financial aid at some premier graduate institutions, leadership training, career and graduate school counseling and special internship opportunities within the federal government.

Isherwood, who spent the spring semester in Cairo, Egypt, researching accountability in humanitarian organizations and stayed through the summer while working as a volunteer English teacher, said support from his family and UD faculty and staff has been key to his success.

"My family has been supportive throughout," he said. "Even though my parents were a bit leary when I told them I wanted to go to Egypt after my freshman year, when they saw I was serious about it they supported me. I also got a lot of help compiling my application and tracking down people to write recommendations from UD's Honors Program. Everyone there helped a lot."

When Isherwood is not in school, he runs long distance races, including the half-marathon in Baltimore and in Nashville with UD's running club. He also ran the Dead Sea marathon in Jordan last April. He also enjoys hanging out with his friends, dancing to swing or salsa and playing Frisbee. "I crochet, too, and I like to read fiction and learn languages."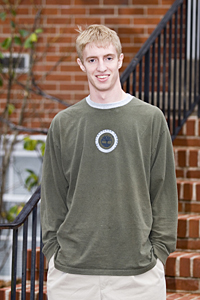 James Parris

In addition to academic work, Parris enjoys Brazilian Jiu-Jitsu, a form of submission wrestling, at a local martial arts school.

"There's nothing like getting beaten up a couple of nights a week to wind down from the rigors of school work," he said. "My parents recently moved to China so I don't see them as much anymore, although visiting them has been a great way to see the world."

Marshall Scholarships are financed by the British government, which established the award as a gesture of thanks to the United States for the assistance received under the Marshall Plan developed by Gen. George C. Marshall after World War II.

The highly competitive scholarships provide opportunities for American students who have demonstrated academic excellence to continue their studies at a university of their choice in Great Britain. The regional committees that select Marshall Scholars seek individuals who are likely to become leaders in their fields and make contributions to society. More than 1,500 students have received Marshall Scholarships since the program's inception in 1953.

Last year, UD senior Nicholas Pappas Klingaman from Columbia, Md., received the 2005 Marshall Scholarship to pursue a doctorate in meteorology at the University of Reading, which is located west of London.

Article by Martin Mbugua
Photos by Lane McLaughlin and Kevin Quinlan
E-mail this article
To learn how to subscribe to UDaily, click here.