Student leaders honored at star-spangled event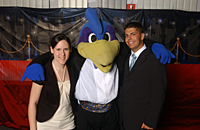 YoUDee hugs Grossman Memorial Award winners Jaimie Watts, vice president of major events for UD's Student Centers Programming Advisory Board, and John Cordrey, president of the Delaware Undergraduate Student Congress.
Click here for photo album
4:47 p.m., May 12, 2006--Amid a glittering backdrop and black, red, silver and gold balloons, students and representatives from more than 200 registered student organizations (RSOs), Greek life and sports clubs mingled at UD's Student Leadership Awards ceremony Thursday evening, May 11, in the Multipurpose Rooms of the Trabant University Center.
Before claiming their awards on the decked-out stage, guests dressed in their finest attire sampled hors d'oeuvres, reminisced over highpoints from the past year and swayed to tunes that ranged from jazz to salsa at the invitation-only event.
During the awards ceremony, finalists in each category drew a spirited round of applause as their names and the names of the winners were announced. After a walk across the stage, winning individuals, organization representatives and mentors received their awards before having their pictures taken with a tuxedoed YoUDee.
With a True Blue Hen nod to the Academy Awards ceremony, certificates, plaques and coveted statuettes--YoUDees, not Oscars--were given to recognize student organizations and their mentors.
Students and organizations were nominated in April, through self-nomination or by others. A committee of administrators and students from the Allocations Board and Solar Council (an advisory group representing various RSOs and chartered Greek organizations) then narrowed the pool to several YoUDee recipients. Honorees each received a certificate, and winners took home the YoUDee awards.
2006 YoUDee award recipients
The Grossman Memorial Award was established by members of the Class of 1963 in remembrance of their classmates, Judy and Bill Grossman. Each year, a junior or senior is honored for outstanding contributions to campuswide cocurricular programs, as well as high-quality leadership and organizational ability in helping plan and present programs. This year, the recipients were John Cordrey, AS '06, president of the Delaware Undergraduate Student Congress (DUSC) for the past two years; and Jaimie Watts, BE '06, this year's vice president of major events for UD's Student Centers Programming Advisory Board (SCPAB).
Blood Drive Awards are given to those groups that have the best turnout for campus blood drives. Blood Bank of Delmarva recognized UD student organizations for sponsoring blood drives during the 2005-06 academic year, including Sigma Chi and Alpha Xi Delta for the September drive; Kappa Alpha, Theta Chi, the Resident Student Association and HOLA for the November Colonial Athletic Association "Have a Heart" drive; Sigma Alpha Mu and the Red Ribbon Project for the February drive; Phi Sigma Pi, Delta Gamma, the Food Science Club and Mortar Board for the March drive; Alpha Omega Epsilon, Sigma Phi Delta and the Society of Women Engineers for the April drive; and Phi Sigma Sigma and the Student Nurse Organization for the May drive.
Outstanding Advisers are nominated based on their commitment and devotion to mentoring and caring for students. Deborah Ellingsworth, an instructor of hotel, restaurant and institutional management, was elected in the RSO category for her Vita Nova Baker's Dozen, Sharon Richardson, chapter alumna adviser, was elected in the Greek category for her work with Alpha Xi Delta, and Kathleen Troutman, associate director, IT-University Media Services, was elected for her work with UD's Equestrian Club.
Best New RSO is based on an organization's strong presence on campus despite being established for less than two years. This year's YoUDee recipient was the East and Southeast Asian Student Union.
Outstanding Greek Scholarship Award recognizes the Greek chapter that best promotes academic achievement with awards and incentives. This year's YoUDee recipient was Alpha Phi sorority.
Greek Chapter Grade Point Average Awards honor Greek chapters that maintain the highest overall GPAs. This year's fraternity was Sigma Phi Epsilon, which maintained an overall average of 3.18, and the sorority was Alpha Xi Delta, which maintained an overall average of 3.37.
Outstanding Community Service Awards went to two organizations. Alpha Xi Delta earned the award in the Greek category for Locks of Love, a nonprofit organization that makes wigs of donated hair for children who are victims of cancer; and Campus Alliance De La Raza and HOLA earned the award in the RSO category for a book drive.
The 2006 RSO Lecture Award went to the Leadership Council for the Jack Markell lecture.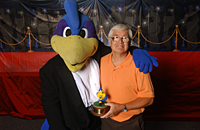 YoUDee congratulates David Frey, associate professor of plant and soil science and adviser to UD's Horticulture Club, on winning the Lifetime Achievement Award.

Outstanding Cosponsored Program Award was given to four RSO groups this year. Recipients were Haven, HOLA, SCPAB and the East and Southeast Asian Student Union for the drag show.

Outstanding Web Site Awards were presented to three groups. Alpha Phi took the award in the Greek category, Haven earned the award in the RSO category and men's crew won the sport club honor.

Outstanding Late Night/Alternative Program Award recognizes a student group that holds an outstanding program that extends beyond or begins after midnight or that organizes an outstanding program that addresses an unusual but critical need. Criteria include a good turnout and marketing the program effectively to the UD community. The Delaware Repertory Dance Company and the Resident Student Association won the award in the RSO category for their late night dinner.

Outstanding Diversity Program Awards honor organizations that educate the campus community about diversity issues, including, but not limited to, gender, race, culture, religion, handicap and sexual orientation. Chi Upsilon Sigma, Lambda Pi Chi and Lambda Theta Phi won the award in the Greek category for the Latino feud, and the American Indianist Association won the award in the RSO category for the pow-wow.

Overall Program Awards honor organizations that sponsor original, meaningful and educational programs during the year. Kappa Alpha Psi won the award in the Greek category for the Talented Tenth series, and Gamma Sigma Sigma won the award in the RSO category for When Life Hands You Lemons.

Overall Advertising Award went to SCPAB for their consistency, visibility and timeliness.

Event Advertising Award went to the Chinese Cultural Student Association and the Vietnamese Student Association for their advertising efforts for the Lunar New Year.

Greek PR Person Award went to Kristin Schrumpf, AS '06, for her work with Alpha Xi Delta sorority, and RSO PR Person Award went to Danielle Simms, CHEP '07, for her work with Delaware Repertory Dance Company.

Outstanding Overall Achievement Award is the highest honor a student organization can achieve. Organizations are nominated for following their mission statements with excellent programs, activities or services, or for doing what they do exceedingly well. Sigma Chi fraternity earned the award in the Greek category, Haven earned the award in the RSO category and the Cycling Club earned the award in the sports club category.

Outstanding Sports Club Treasurer award went to John Leitz, BE '06, for his work as treasurer of men's crew.

Outstanding RSO Treasurer Award goes to a student nominated for his or her skill in keeping treasury books and maintaining treasury files. Emma Llanso, AS '06, earned the award in the RSO category for her work as treasurer of Sigma Alpha Iota, the music fraternity for women.

Outstanding Leader Awards for excellence in providing leadership to their organizations and the University community include Kara Licurgo, BE '06, of Sigma Kappa, for Outstanding Greek Female Leader; and Brian Slater, BE '06, of Sigma Chi, for Outstanding Greek Male Leader.

Amber Hikes, AS '06, of Haven, won the Outstanding RSO Female Leader Award, and Brian Tyrseck, AS '06, of the Rubber Chickens, won the Outstanding RSO Male Leader Award.

Outstanding Sports Club Female Leader Award went to Kaitlin Kellogg, AS '06, of the UD Figure Skating Club, and Outstanding Sports Clubs Male Leader Award went to Andrew Madison, AS '06, of men's crew.

The Lifetime Achievement Award went this year to David Frey, associate professor of plant and soil science and adviser to UD's Horticulture Club.

Article by Becca Hutchinson
Photos by Duane Perry
E-mail this article
Subscribe to UDaily
Subscribe to crime alert e-mail notification