UDaily is produced by the Office of Public Relations
150 South College Ave.
Newark, DE 19716-2701
(302) 831-2791

Grad student chess champion in China and Delaware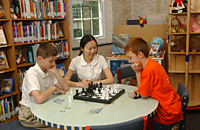 Grad student Yi Song, who won youth chess championships in China and Yugoslavia, instructs Matthew Dunn (left) and A.J. Jones, members of the chess team at UD's College School.
9:18 a.m., May 31, 2006--Yi Song is modest about her prowess in chess.
The UD graduate student from Tianjin, China, insists her accomplishment have been exaggerated even though she admits that at age 14 she won the title of woman chess master, a title she carries for life, and that year was ranked 10th best woman chess player in China. Between the ages of 10-14, she won several youth championships in China and in Yugoslavia.
She began playing chess at age 6 when her parents introduced her to activities meant to stimulate a child's imagination and cognitive skills. They gave her piano lessons and she learned to draw, but it was chess that fascinated her. "It's hard to predict the outcome of a chess game. It's a good intellectual activity, a real challenge. When you've beaten an opponent, you feel a sense of accomplishment that is meaningful," she said.
Since 2004, Song has been instructing members of UD's College School chess team, and this year, the team and two members won three Delaware State Elementary School Chess Championship titles competing in a field of 75 players from 20 area schools. One of her students, A.J. Jones also took fourth place in the scholastic section of the Delaware Chess Association's state tournament. The College School is a private elementary school on campus for children with learning differences.
Song became a student at UD in 2002. In 2005, she won the Delaware Chess Association's women's championship and was second to Charlie Bouzoukis, who won the state championship.
Song is in her third year of doctoral studies in educational psychology, cognitive development and instruction, so, she can't devote as much time to chess as she'd like, she said. "Along with studying, I'm doing research on how high school students can improve writing skills. So, my time for chess is very limited. Working with The College School's kids allows me to play chess and learn new teaching skills," she said.
Song began coaching at the behest of Gail Rys, assistant director in the School of Education, when Rys learned that a student at The College School was in need of a chess coach. Song began with one student, but soon was tutoring the team.
"I'm not experienced at working with American kids. There's a cultural difference between American and Chinese kids," Song said. "When I was with my coach, he often made me cry but you can't do that here.
"You've got to instruct them by capturing their interest, giving them fun things to do, like chess puzzles, which will develop their skills of strategy. When they do something wrong, you have to be really soft. I don't want these kids to become disappointed when they lose," Song said.
Article by Barbara Garrison
Photo by Duane Perry
E-mail this article
Subscribe to UDaily
Subscribe to crime alert e-mail notification