UDaily is produced by the Office of Public Relations
The Academy Building
105 East Main St.
Newark, DE 19716-2701
(302) 831-2791

Marriott awards UD hotel top honors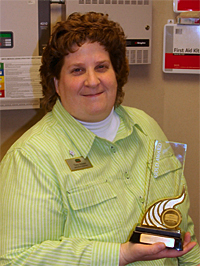 Tracy Holmes, director of operations, with Marriott's Gold Award for guest satisfaction

2:50 p.m., March 2, 2006--The Courtyard Newark-University of Delaware hotel was named best in customer satisfaction for 2005 by Marriott Corp. at its general managers' meeting held Feb 20-22 at the Marriott San Diego in California.

The UD/Shaner Hotel Group-owned Courtyard received more outstanding customer satisfaction surveys than any of the 684 Marriott Courtyards worldwide.

Bill Sullivan, managing director of the hotel, accepted the trophy at the Marriott banquet Feb. 22. He credited his employees for the award, along with students in UD's Department of Hotel, Restaurant and Institutional Management (HRIM).

"We are so fortunate to have an excellent team that works hard every day to excel at customer service," he said.

"'Whatever it takes,' or 'WIT,' as we call it, is the driving force that UD/ Shaner and Marriott fully endorse, and it's what we remind our staff of every day. We also are blessed with the fine students of the HRIM practicum who work closely with our staff to provide an even higher level of service. Together, this is an exceptional team," Sullivan said.

According to the surveys, guests were impressed with how UD's hotel and its staff went out of their way to be of service. Guests wrote:

"The staff was always ready to do what was needed to help. They prepared a meal for me--a late arrival--long after the restaurant had closed."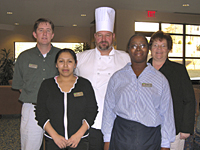 Representing the 35 Courtyard-Newark University of Delaware hotel staff members recognized by Marriott for highest guest satisfaction ratings are (from left) Justin Bakeoven, Cristina Garcia, Mark Chopko, Judith Molock and Louanne Webb.

"A student intern helped my daughter with directions on campus and gave her great advice about being a student at the University."

"We had superior service in the lounge with Ed. He is a great representative of the highest level of service."

"Great food in the cafe, and chef made special items for our children!"

Sullivan said, "It is a pleasure to be part of this team, and I am so proud of every person on it. Teaching our HRIM students with such a fine staff helps us share with them our passion for service that they can carry into the future."








Article by Barbara Garrison
E-mail this article
Subscribe to UDaily
Subscribe to crime alert e-mail notification