UDaily is produced by the Office of Public Relations
The Academy Building
105 East Main St.
Newark, DE 19716-2701
(302) 831-2791

Students primed for research poster presentations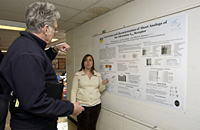 Kellie Machlus, a senior biochemistry major, explains her research on adenosine to Hal White, director of UD's Howard Hughes Medical Institute Undergraduate Science Education Program.

1:57 p.m., March 30, 2006--Like pilots using a flight simulator or filmmakers gauging audience reaction at a sneak preview, 16 UD undergraduate researchers recently tried out the presentations they'll deliver at the national Experimental Biology Meetings in San Francisco April 1-5.

When senior biochemistry major Kellie Machlus saw Professor Harold B. White III approaching in McKinly Lab on March 7, her face burst into a smile and she said, "Give it to me straight."

White, director of UD's Howard Hughes Medical Institute Undergraduate Science Education Program, pretended he was a scientist who didn't understand her research: "What's adenosine?" "Where the heck does the adenosine come from?"

He made gentle suggestions: "Don't use abbreviations people won't know."

Machulus took notes in the margins of her sofa-painting-sized poster entitled "Expression and Characterization of Short Analogs of the Adenosine 2A Receptor."

Machlus and other UD students, who White described as "the cream of the crop" of undergraduate researchers, were getting their posters and their presentations in shape for San Francisco. Nine UD students will be competing with 155 poster presenters from colleges around the world at a professional meeting that will draw more than 12,000 scientists to San Francisco's Moscone Convention Center.

"We give the students the opportunity to practice before the meeting," Zakiya Wilson, who coordinates the Network of Undergraduate Collaborative Learning Experiences for Underrepresented Students (NUCLEUS) for the Howard Hughes program at UD, said. "This gives them an opportunity to explain the research to people who are not necessarily directly involved in their work."

"We're trying to encourage students to think more on a national level," assistant Hughes program director David C. Usher, an associate professor of biological sciences, said. "In other words, they're not working for credit, they're not working for a grade, they're working for national recognition."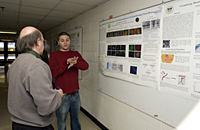 Andrew Farach (right), a senior biology major, discusses his research poster on brain development in chicks with assistant HHMI program director David C. Usher, an associate professor of biological sciences at UD.

Ten UD undergraduates have been recognized with awards since they began attending the competition in 2000.

Faculty and graduate students circulated in the basement of McKinly Lab, stopping to ask questions and make suggestions as students scribbled notes.

"I need to practice my transitions,'' Liang-I Kang, a senior biology major presenting her project entitled "The Role of Junctional Adhesion Molecule A (JAM-A) in the Corneal Epithelium," said. "When you talk about a project, I guess it's kind of like telling a story."

"Critiquing helps a lot because there's a lot that you don't necessarily see because you know your own work," Agata Bielska, a senior biochemistry major said of her poster entitled "Hyperphosphorylation of Tau Induces Local Structure Changes."

Standing in front of his poster, "Regulation by Cholesterol of the
Gene Expression of Spot 14 Adipocytes," James Kelleher, a junior biochemistry major, said, "Dr. White and Dr. Usher have a ton of experience in looking at the research we've done and making it understandable. They've seen the best of the posters, and they've seen the worst of the posters, so I'm definitely going to take everything they said to heart."

The students preparing for the Undergraduate Poster Competition at the convention represent six departments--chemistry and biochemistry, physical therapy, animal science, biology, biological sciences, and medical technology.

The students are: from chemistry and biochemistry, Bielska, Eric Hardter, Kelleher, Machlus and Alfred Smith; from biological sciences, Andrew Farach, Patricia Hansen, Karla Boyd, Madeline Gregorits Kang, Vivek Patel and Kristen Reese; from physical therapy, Jamie Kuczmarski; from medical technology, Brett Hensley; and from animal science, Jessica Hall.

Article by Kathy Canavan
Photos by Sarah Simon, AS '06
E-mail this article
Subscribe to UDaily
Subscribe to crime alert e-mail notification