DARPA honors Decker for work in computers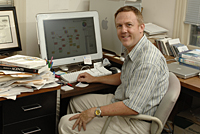 Keith Decker, associate professor of computer and information sciences
3:49 p.m., June 20, 2006--A University of Delaware researcher has received special recognition from the Defense Advanced Research Projects Agency (DARPA) for his research on complex computer organizations, particularly ways to get large numbers of machines to work together to solve problems.
Keith Decker, UD associate professor of computer and information sciences, was honored by DARPA's Information Processing Technology Office for "foundational research in generalized coordination technologies."
The agency said Decker's "superior research efforts and vision fostered the development of a new paradigm which enables loosely
coupled distributed autonomous systems to work effectively together," adding the development is of great importance to the Department of Defense.
Decker said the research is designed to help in the coordination of and decision-making by military units in the field, with a parallel use for civilian emergency responders.
"There is an old saying in the military that no plan survives contact with the enemy," Decker said. "The question becomes, how do you recalibrate and then coordinate your response?"
He said coordination is difficult because it requires solid communication up and down the chain of command, a process that can be tedious and, in the heat of battle, prone to error.
"We are working to develop computer systems that can keep track of the plan, and that keep track of alternatives to the plan for when things go wrong," Decker said.
Furthermore, the exceptionally dynamic and complex system is designed to help commanders understand how various setbacks affect individual units and provide options to recover from those setbacks. The system features automated decision-making that would be of great value if a unit is under fire, and also provides a series of backup plans for the changing conditions in the field.
DARPA will test the system over the course of the next three years, after which time it could be contracted out to manufacturers for further refinement and implementation, Decker said.
Decker, who joined the UD faculty in 1996, said he has long had interest in multi-agent systems and distributed artificial intelligence, with a focus on "getting lots of computers to work together to solve problems."
The major problem faced by both computer and human organizations is the development of systems that allow for the most effective coordination of activities, Decker said.
"Problems are hard to solve in the real world because in the real world, no one has a centralized picture of what is happening because tasks are distributed," Decker said. In addition, situations are ever changing and a correct decision in one moment may prove disastrous in a changed landscape just moments later. Plus, there is the fact that one can never be absolutely certain of the outcome of a decision and subsequent action.
Decker tries to look at the many variables through a computer representation that can model the diverse tasks being undertaken, how those tasks interact and the effects of those interactions.
The benefits of such a system are quite clear for the military, which fields an array of units over an ever-changing field, but there also are civilian applications. Decker cited the landfall and subsequent destruction caused by Hurricane Katrina in 2005. "You had different agencies with different policies and different authorities," he said. "There was a distribution problem, dynamic change, uncertainty about what would happen in the future and organizational constraints on action."
Decker believes another application is in bioinformatics and the coordination of computational systems and humans through information gathering, information filtering and analysis. He foresees, for example, the development of means to use computers to represent signaling pathways in human cells using artificial intelligence techniques.
Decker became interested in the field while working toward his master's degree at Rensselaer Polytechnic Institute in Troy, N.Y., where he was introduced to the intersection of distributed real-time systems and artificial intelligence.
He completed his doctorate at the University of Massachusetts, working on coordinated problem solving, and went on to do postdoctoral work at Carnegie Mellon University in Pittsburgh.
Article by Neil Thomas
Photo by Kathy F. Atkinson
E-mail this article
Subscribe to UDaily
Subscribe to crime alert e-mail notification