Short-handed UD chess team takes top spot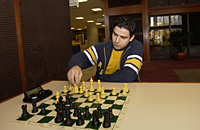 Junior Rahman Armat is one of the three Blue Hen Chess Club members who won the Liberty Bell Open tournament in Philadelphia recently despite being short one player.

11:11 a.m., Feb. 17, 2006--A short-handed team from the University of Delaware's Blue Hen Chess Club recently emerged as the top finishing college during the 38th Annual Liberty Bell Open tournament in Philadelphia. The UD team competed with only three players instead of the usual four.

Michael Dignan, sophomore chemical engineering and history major, who won five of his seven games and took fourth place in the under 1200 section, led the team. The other contestants were Rahman Armat, a junior finance major, and Bobby DeMarco, a sophomore mathematics and economics major.

With more than 300 participants, the Liberty Bell Open is one of the largest annual tournaments in Philadelphia and it draws some of the best players in the country. The tournament was the second U.S. Chess Federation event for the UD team.

"I'm happy that we performed well as a team," Dignan said. "Individually, I wanted to win in the under 1200 category before starting to play in the higher sections with Bobby and Rahman. I was happy with my performance throughout most of the tournament because I was playing very steadily, even though it wasn't particularly brilliant.

"The toughest game of the tournament was definitely the last one because the pressure was on to win the game and the tournament. My opponent, eight-year-old Odette Moolten, played pretty solidly, despite playing a questionable form of the Sicilian in order to attack my kingside. Eventually, I just crumbled," Dignan said. "While I was very disappointed with the result of that game, I'm pretty confident that we'll continue to improve and maintain a strong presence in future regional tournaments."

DeMarco said his toughest game during the tournament came in the fourth round, which he began with two wins and a draw from the first three games.

"When it got down to the end of the game, we both had about three minutes left on the clock and we both still had all of our pieces except for a bishop and a pawn," DeMarco said. "The position was quite complicated, but my opponent was able to eke out a win in the last minute with a clever mating attack. This game was really fun for me. It's the type of game that keeps me coming back to try again at the next tournament."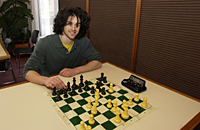 Sophomore Jeremy Penna, president of Blue Hen Chess Club

In addition to Dignan's performance, DeMarco and Armat combined for another six wins, giving the team a total of 11.5 points, earning it first place among colleges and universities.

Armat, who has accumulated more than 30 books and DVDs on opening, middle and end games, said: "Chess makes you better at anything you do. It's not just a game--it's science, art and a sport."

The club's president, Jeremy Penna, a sophomore English major, said the team's performance was even more impressive considering that the club, which was revived just two years ago, has less than 20 members.

"We operate through other organizations, including the Newark Chess Club," Penna said. "One of our most effective recruitment techniques is playing public blitz games, in which we challenge passersby to games and offer free chess boards."

Penna said that many students who start playing chess often find it exciting and useful, regardless of their academic interests.

"The value of chess is that it's a logical system that forces you to make mathematical decisions with someone else and a goal in mind," Penna said. "I play it to impress girls."

Article by Martin Mbugua
Photos by Sarah Simon, AS '06
E-mail this article
Subscribe to UDaily
Subscribe to crime alert e-mail notification