UDaily is produced by the Office of Public Relations
150 South College Ave.
Newark, DE 19716-2701
(302) 831-2791

Student nominated for national volunteer award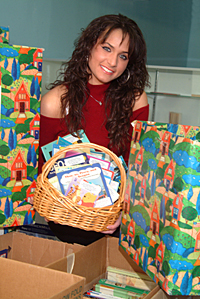 Vincenza Carrieri-Russo
4:40 p.m., April 13, 2006--Vincenza Carrieri-Russo, a sophomore in the College of Arts and Sciences, has been selected from among five Jefferson Award winners to represent the Delaware region for the national Jacqueline Kennedy Onassis Award for public service. The national award ceremony will take place when all the regional winners meet in Washington, D.C., June 19-21.
Her selection was announced at a luncheon at the Du Pont Country Club on April 3. "I was shocked and surprised when they called my name, and I'm very excited," Carrieri-Russo said. As a Jefferson Award winner, she has received a medallion and congratulations from the governor, the lieutenant governor, Delaware's senators and congressman and from New Castle County officials.
There will be a full schedule the three days she is in Washington when Carrieri-Russo will meet other winners and government officials. The group will spend a day on Capitol Hill and attend other events, including a black tie dinner in their honor.
The Jefferson Awards program, established by newspapers, radio and television stations in 1972, honors individuals for their contributions to public and community service. The News Journal sponsors the program in the Delaware region.
Carrieri-Russo's project, Success Won't Wait, began three years ago while she was still in high school, with a basket of children's books she collected to put in a dance studio where she taught. From that first step to encourage children to read, the project, with the help of Susan McNeill, a public relations consultant, took off and baskets of books were collected and distributed to all sorts of places where children were likely to be waiting, such as doctors' offices.
Since that small beginning, Success Won't Wait has mushroomed into a major effort to encourage literacy and reading with books distributed to schools, community centers, learning centers and residential libraries. With help from volunteers and local businesses, Success Won't Wait has collected more than 30,000 books for children, as well as for adults, including 1,000 for troops in Iraq, 2,000 for penal institutions and 1,000 to replace books lost by the Hockessin Library during Hurricane Isabella.
Carrieri-Russo, with the help of Marianne Green, assistant direct of UD's MBNA Career Services Center, organized a book drive on campus last fall that netted 2,000 more volumes for the project. "It was the first book drive on campus and we hope to hold one again next year," she said.
"I have always done some kind of volunteer work, but the book collection is from the heart. I truly love what I am doing," Carrieri-Russo said.
Article by Sue Moncure
Photo by Greg Drew
E-mail this article
Subscribe to UDaily
Subscribe to crime alert e-mail notification