Live video links UD class with Beirut
3:56 p.m., April 7, 2006--For 13 University of Delaware students in the Global Agenda honors section of the "Communication/Political Science and International Relations" course this semester, the city of Beirut in Lebanon is not the war-ravaged, bullet-scarred city with frightened civilians fleeing for their lives that is depicted in movies. Their fresh understanding comes thanks to a joint weekly class with students at American University in Beirut (AUB) via live video conference.
During the 75-minute class on Thursdays in a studio in Pearson Hall, the UD students and the 14 students in Beirut watch each other on live video on projection screens and speak through microphones at their desks. Cameras pan across the rooms and zoom in on individual students when they make a contribution.
Each of the UD students has teamed up with a student in Beirut--with one team of three--to work on projects covering different aspects of cross-cultural perceptions, which will conclude with joint class presentations. During a recent class, the teams discussed their projects and invited suggestions from other students.
Ralph Begleiter, Edward F. and Elizabeth Goodman Rosenberg Professor of Communication and distinguished journalist in residence, said the idea of a video conference was inspired by his unsuccessful attempt several years ago to organize a study abroad program in the Middle East, which was thwarted by reluctant parents.
"Since the 9/11 attacks, I believe it's even more important than ever that American students make some connections to that region," Begleiter said. "Although it's become a cliché to call our students the 'leaders of tomorrow,' it's certainly true, and we need leaders--in business, politics, culture--who are understanding of cultural perspectives which sometimes clash with ours."
Rami Khouri, editor-at-large for the Beirut-based Daily Star who teaches a "Media and Politics" course at AUB, said he discussed the possibility of the joint class with Begleiter when he gave a lecture at UD two years ago.
"I had always thought that Arabs and Americans were not doing enough joint research, analysis or ongoing discussion on big issues of mutual concern, especially since 9/11," Khouri said. "I believe that getting people together to explore issues is probably the most useful thing that we can do these days, including students, journalists, think tanks and academics."
Caitlin Simpson, a UD junior political science and English major with concentrations in global studies and journalism, said her experience in the class has been "unbelievable."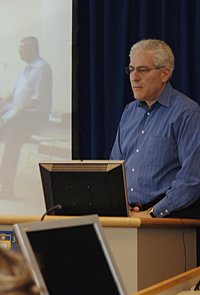 The joint video-linked class is taught by Rami Khouri (left), editor-at-large for the Beirut-based Daily Star who teaches a "Media and Politics" course at AUB, and Ralph Begleiter, Edward F. and Elizabeth Goodman Rosenberg Professor of Communication and distinguished journalist in residence at UD.

"I really never thought too deeply about the people living in the Middle East, outside of the conflict in Iraq, and this experience has really opened my eyes to the daily life in Lebanon," Simpson said. "I never expected the students to be so similar to myself, and it's been a very rewarding realization. Without this face-to-face forum, I do not think the discussion would be as open and stereotypes would still exist."

Simpson, who recently studied in Italy and has traveled to France and England, said the course has taught her to keep an open mind and erased her misconceptions of international issues.

Basma Tabaja, a junior political studies major at AUB, said the joint class and the diverse student body at AUB, which includes many Americans, have helped her understand more about other cultures and how students in the U.S. form their perceptions. She has visited England and frequently visits Syria on weekends.

"I have learned that sometimes you can agree with someone hundreds of miles away more than you would with the person sitting next to you, even if you have the same background," Tabaja said, adding that the video conference "promotes healthy dialogue and the sharing of ideas across cultures that is very much needed in this time and day."

Lindsey Seelhorst, a UD senior political science major, agreed. "It's definitely changed a lot of my perceptions of the Middle East, and I feel really comfortable with the kids from Beirut," she said. "Although we only see each other once a week, the amount of learning that we're doing about each other gives us really strong ties. The experience, so far, has been amazing."

Brendan Taubman, a UD sophomore political science major who has traveled to Grenada, Spain, England, Italy, Portugal, France and Mexico, said the video conference has opened his eyes to appreciate students like him from a region he has never visited.

"Every Thursday, I am fascinated by the discussion that develops between all of the students, and I am always pleasantly surprised to hear well-articulated points of view, in English, from students in Beruit," Taubman said.

Khouri and Begleiter said expanding the video conference concept to create similar links in other courses and beyond the two universities would enrich the academic experience for students.

"To me, the best outcome would be discovering that someone-- perhaps the university itself--would want to endow this concept so it would become an absolutely 'standard' occurrence on the UD campus every year, perhaps even every semester," Begleiter said. "Why not an art course with students in Europe? Why not a science course with students in Asia? Why not geography or archeology with students in Turkey? Why not philosophy, political science, communication, history and many other courses with students in other parts of the world? Is that an impossible dream?"

Article by Martin Mbugua
Photo by Kathy F. Atkinson
E-mail this article
Subscribe to UDaily
Subscribe to crime alert e-mail notification