Prosecutor debates philosopher on death penalty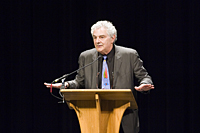 Philosopher Jeffrey Reiman: "We don't have the right to exact the full measure of retribution when we are responsible for the uneven playing field."
4:40 p.m., April 5, 2006--A philosopher and state prosecutor came to campus to debate capital punishment Monday, April 3, hours after a federal grand jury ruled al-Qaeda conspirator Zacarias Moussaoui is eligible to be executed.
Jeffrey Reiman, professor of philosophy at American University and author of The Rich Get Richer and the Poor Get Prison, said he believes there are probably some criminals who deserve the death penalty but the U.S. should not impose it: "It's not about the murderers; it's about us. It's about what kind of people we want to be," he said.
Reiman said a disproportionate percentage of those on death row are poor and have fewer incentives for staying out of trouble than middle-class Americans and college students. "We don't have the right to exact the full measure of retribution when we are responsible for the uneven playing field," he said.
Reiman said pollution, occupational hazards and other business decisions cause far more deaths than murderers but the businesspeople who cause those deaths are not held responsible in the same way.
He told the crowd of more than 200 at Mitchell Hall that the law creates a right to punish but not a duty to punish, and asked, "Is it a better deterrent than less harsh punishment, such as life imprisonment without possibility of parole?"
Reiman said polls show support for the death penalty drops when respondents are offered an alternative that is "the rough, moral equivalent of death."
"Put them in solitary confinement,'' he said. "Nobody kills anyone in solitary confinement."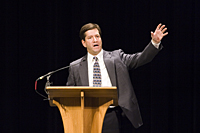 Steven Wood: "The death penalty is a specific deterrent, I know. Murderers don't kill after execution."

Steven Wood, Delaware state prosecutor, said inmates in maximum security and solitary confinement have attacked guards and other inmates. "It becomes a question about society's legitimate right to preserve itself," he said.

Wood said he understood the audience might oppose the death penalty on moral, ethical or religious grounds but he hoped their views were based on "something approaching the facts and not spin, misinformation or outright falsehoods."

Wood said no innocent person has been executed in Delaware in the modern era--the 30 years since the U.S. Supreme Court reinstated the death penalty in 1976.

He said it is widely assumed that most death-row inmates are African-American, but, in Delaware, the majority is white. Only 23 percent of the state's condemned prisoners are African-American, Wood said.

Although some studies show the death penalty is not a general deterrent to violent crime, Wood said an earlier execution would have saved the lives of four victims of James Allen Red Dog, a rapist and five-time killer who was executed at Smyrna in 1993. "The death penalty is a specific deterrent, I know. Murderers don't kill after execution," he said.

Wood objected to Reiman's suggestion that a convict's poverty might negate the death penalty. "It makes me very nervous when we say that one citizen is less responsible than another because of his upbringing. It is true many murderers come from horrific backgrounds. It is also true that many persons with horrific backgrounds don't commit murder," he said.

Discussing the news in the case of Moussaoui, who has been linked to the Sept. 11 terrorist attacks, Reiman said he hoped the U.S. would opt for imprisonment because Moussaoui would be harmless in a prison cell. "This would be a case in which we could say something very positive about ourselves to the world," he said.

The debate, "Should We Be Using Capital Punishment in the 21st Century?" was part of the Great Debate Series sponsored by the Delaware Interdisciplinary Ethics Program, a consortium of higher education institutions, health care institutions and research organizations supporting intelligent discussion of important social issues. Additional information can be found at [http://www.dbi.udel.edu/ethics.html].

Article by Kathy Canavan
Photos by Kevin Quinlan
E-mail this article
Subscribe to UDaily
Subscribe to crime alert e-mail notification