UDaily is produced by the Office of Public Relations
150 South College Ave.
Newark, DE 19716-2701
(302) 831-2791

Senior wins chemistry research fellowship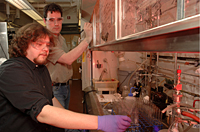 Senior Richard James Karpowicz Jr. (left) with his mentor, Joseph Fox, assistant professor of chemistry and biochemistry
3:14 p.m., April 10, 2006--Richard James Karpowicz Jr., of Lawrenceville, N.J., a senior biochemistry major, has been awarded a 2006 Pfizer Summer Undergraduate Research Fellowship in Synthetic Organic Chemistry. He is one of only 18 Pfizer summer fellows named nationwide.
The fellowships--awarded in synthetic organic chemistry and computational chemistry--each provide a total of $5,000, with $4,000 as a direct stipend to the student and $1,000 available to the department or mentor for expenses in support of the awardee's research project.
Sponsored by Pfizer's Global Research and Development Division, the fellowships are for undergraduate chemistry majors in their junior and senior years doing research on their own campus with a faculty mentor.
Karpowicz's mentor is Joseph Fox, assistant professor of chemistry and biochemistry, who recently received a five-year, $648,000 National Science Foundation Faculty Early Career Development Award for research on organic synthesis. Karpowicz is part of Fox's research team, which is developing new methods in catalyst design.
The culmination of the fellowship program is a visit to a Pfizer site in La Jolla, Calif., or Groton, Conn., by the recipients and their mentors in the fall for an award ceremony and to report the results of their independent research projects during a poster session.
Karpowicz's father, Richard Karpowicz Sr., received his doctorate in chemistry from UD in 1983, working with Thomas Brill, professor of chemistry.
Aricle by Barbara Garrison
Photo by Kathy Atkinson
E-mail this article
Subscribe to UDaily
Subscribe to crime alert e-mail notification