UDaily is produced by the Office of Public Relations
The Academy Building
105 East Main St.
Newark, DE 19716-2701
(302) 831-2791

Symposium on African American art Nov. 6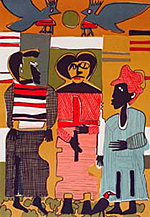 FIREBIRDS, 1975, color lithograph, © Romare Bearden Foundation/Licensed by VAGA, New York, NY

10:28 a.m., Oct. 22, 2004--A special symposium on Saturday, Nov. 6, will kick off a week of special activities to be held in celebration of the University of Delaware exhibition titled "The Paul R. Jones Collection: A Century of African American Art."

The symposium is on the topic "The Personal Political Art of Nanette Carter and Romare Bearden" and will be held from 2-5 p.m., Saturday, Nov. 6, in the theatre of the Trabant University Center on the UD campus.

Amalia Amaki, curator of the Paul R. Jones Collection, will be the moderator for a panel discussion featuring Nanette Carter, Emma Amos, Andrea Barnwell and Sharon Pruitt.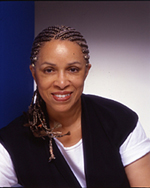 Emma Amos, photo by Becket Logan
Carter is an artist and a professor of art at the Pratt Institute of Art in Brooklyn, N.Y. She is well known for her oil on Mylar technique and has been called a visual storyteller. She graduated from Oberlin College in 1976 and went on to earn a master of fine arts degree from Pratt.
Amos is an artist, a member of the Spiral group and a professor of art at Rutgers University. Born in Atlanta in 1938, she graduated from Antioch College in Ohio, the Central School of Art in London and New York University. She is noted for explorations in various media, including etching, monoprints, silk collagraphs, photography, painting, fiber and sewing.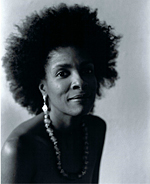 Nanette Carter
Barnwell is director of the Spelman College Museum of Fine Art. She replaces Edmund Barry Gaither, founder and curator of the Museum of the National Center of Afro-American Artists in Roxbury, Mass., who was originally scheduled to participate.
Pruitt is an associate professor of art history at East Carolina University. She earned her doctorate in art history from Ohio State University.
A reception will follow the program in the exhibition galleries in Mechanical Hall and Old College.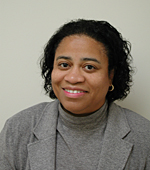 Sharon Pruitt
Later in the week, there will be a reception for the campus community in conjunction with the exhibition from 5-7 p.m., Thursday, Nov. 11, in Mechanical Hall and Old College.
That will be followed by a day of celebration with UD benefactor Paul R. Jones, who donated his collection of works by African American artists to the University, from 10 a.m.-8 p.m., Saturday, Nov. 13.
The exhibition will be on view from 10 a.m.-5 p.m. that day, with video presentations on Paul R. Jones, the Paul R. Jones Collection and the gift of the collection to the University from noon to 1 p.m. and performances by Baseline and Nicole Miller from 1-2 p.m.
Jones will field questions from the audience during a special event from 2-3 p.m. in Daugherty Hall. That will be followed by a book signing from 4-5 p.m. in Daugherty Hall, during which time Jones will autograph copies of the Rutgers University Press book, A Century of African American Art: The Paul R. Jones Collection.
The book, which was edited by Amaki, is an important resource for the study of the works included in the collection, the artists who created them and the social and historical context that engendered them. Among the 66 artists represented are Romare Bearden, Elizabeth Catlett, Jacob Lawrence, Henry Ossawa Tanner, James VanDerZee, Carrie Mae Weems and Hale Woodruff.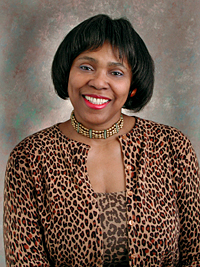 Amalia Amaki
Lavishly illustrated with more than 100 color photographs, the book includes 10 essays that examine essential issues in American art, including portraiture and realism in relation to abstract expressionism, the implications of color, the role of narrative and the concept of multiple originals.
The essays make an effort to situate the art within the larger picture of the nation's historical traditions.
Reflecting the diversity of the collection itself, the contributors come from wide-ranging fields of study, including American art, African American art, African art, art conservation, color theory, photography and sociology.
The Paul R. Jones Collection is among the oldest, largest and most comprehensive collections of works by 20th-Century African American artists in the world. The exhibition at UD will continue through the 2004-05 academic year.
Article by Neil Thomas
E-mail this article
To learn how to subscribe to UDaily, click here.