UDaily is produced by the Office of Public Relations
The Academy Building
105 East Main St.
Newark, DE 19716-2701
(302) 831-2791

Seven alumni honored for outstanding achievement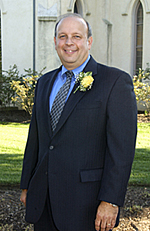 Robert J. Andrzejewski

4:28 p.m., Oct. 7, 2004--Seven alumni received the Presidential Citation for Outstanding Achievement during a ceremony that ushered in Homecoming Weekend on Friday, Oct. 1, in Bayard Sharp hall.

UD President David P. Roselle and Robert Davis, vice president for development and alumni relations, presented the awards to the UD graduates of the last 20 years who "exhibit great promise in their professional and public service activities."

Recipients are Robert J. Andrzejewski '75, '78M, '88PhD, superintendent of the Red Clay Consolidated School District; Stephen M. Boyd '88, freelance producer for large-scale ceremonies and events; Mark S. Parcells '84, '94PhD, UD associate professor of animal and food sciences; Ann Marie Sastry '89, associate professor of mechanical engineering at the University of Michigan; Leonard P. Stark '91HBA, '91BS, '91MA, assistant U.S. attorney, Wilmington; Darrin S. Weigle '88, executive director, global supply chain, Medical Devices & Diagnostics Group at Johnson & Johnson; and Carolann D. Wicks '82, '90M, chief engineer/director, Delaware Department of Transportation (DelDOT).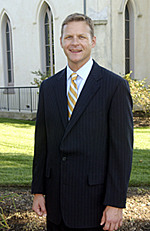 Stephen M. Boyd

Robert J. Andrzejewski began his career in 1978 as a special education teacher and educational diagnostician in the Red Clay Consolidated School District. In recognition of his excellence in educational leadership, Andrzejewski was named Delaware's superintendent of the year for 2004. His contributions to public education in Delaware include the design and implementation of an accountability system that has resulted in significantly higher academic performance by the students in his district over the past three years.

"My doctoral training from the University was extremely valuable and served as a foundation upon which my administrative career in public education was built," Andrzejewski said. "The University's emphasis on being a 'change agent' can still be seen within my management style and supported by accomplishments throughout my career."

Stephen M. Boyd travels the globe, developing and producing large-scale ceremonies and events. His work has been enjoyed at four Olympic Games, two Super Bowls, the Academy Awards, the Grammys and the 1999 Women's World Cup. Boyd was a creative consultant at the Salt Lake 2002 Olympic opening and closing ceremonies, a choreography troubleshooter at the Sydney 2000 Olympic opening and closing ceremonies, a talent manager at the 2000 Democratic National Convention, an audience stunt coordinator at the 1998 Super Bowl and a prop master at the 1998 Central Park production of Disney's Animal Kingdom. Boyd also has made extensive contributions to the world of publication design.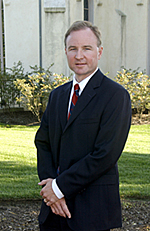 Mark S. Parcells

"Three teachers in UD's visual communications program led our way to creative professionalism while injecting a healthy dose of troublemaker," Boyd said. "Ray Nichols embedded class with rebellion and competition that prepared us for big city office politics. Martha Carothers taught us how to fall in love with the subtle curves of a well-formed alphabet. Bill Deering expanded our world by sharing the simple joy of devouring a Sunday New York Times. I'm still switched on by these three."

Mark S. Parcells specializes in avian molecular virology and has been instrumental in unraveling the molecular biology of Marek's Disease Virus (MDV), one of the most serious poultry pathogens. MDV is of great economic concern to the poultry industry, and all commercial chickens worldwide are vaccinated against this disorder.

Before joining the UD faculty, Parcells was at the University of Arkansas, as an assistant professor of molecular virology from 1996-2001 and as an associate professor from 2001 until August of this year. A strong believer in collaboration, Parcells is known for making his laboratory open to visitors so that they can share the technology he has developed.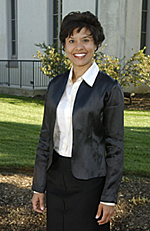 Ann Marie Sastry

"When I was a senior in high school, a Delaware alumnus from our church gave me a tour of the campus. I remember walking down the steps from the [South College Avenue] overpass and seeing the elms framing the mall and thinking, 'Wow, this is where I want to be.' How prophetic," Parcells said. "In the many ways that my life has been shaped by Delaware, I am very grateful for all of the inspiration, mentorship and genuine care that I received here, and I hope to give coming students reason for such fond memories."

Ann Marie Sastry hopes to go where no one has gone before: She is attempting to capture, in real time, the first-ever views of the chemical activity inside living cells. An associate professor in the Department of Mechanical Engineering at the University of Michigan, Sastry is part of a research team that is using synthetic nanoprobes small enough to fit inside a cell without interrupting its normal functions to measure the activity of crucial metal ions like zinc and copper. These ions are critical for cell function, but up to now their activity hasn't been measured in real time.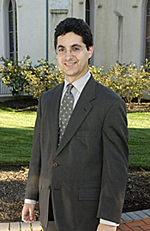 Leonard P. Stark

"My husband, Dr. Christian Lastoskie, and I met as Du Pont Scholars at the University of Delaware," Sastry said. "UD's Center for Composite Materials was, and still is, a national exemplar of a successful academic/industrial research collaboration, and the mentorship that I received there and in my home department of mechanical engineering influences my work even today. We are always delighted to return to campus and see that UD faculty and students continue to work on important research issues."

Leonard P. Stark maintains a close relationship with the University of Delaware. He is an adjunct professor at the University, serves as secretary of the Delaware Rhodes Scholarship selection committee and is a member of the Alumni Association Board of Directors scholarship committee. Stark, who became UD's eighth Rhodes Scholar, was the distinguished alumnus chosen to speak at Winter Commencement in January 2000. In his address, he noted, "The opportunities available to a freshly minted University of Delaware graduate are practically unlimited." He is the author of the book, Choosing a Leader: Party Leadership Contests in Britain from Macmillan to Blair, as well as several articles in law and academic journals.

Darrin S. Weigle is widely recognized as one of the top American leaders in the field of supply chain management, which is a process-oriented approach to procuring, producing and delivering products and services to customers. In his current position at Johnson & Johnson, Weigle's responsibilities encompass the management of material, the exploitation of information and the optimization of fund flows.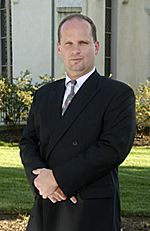 Darrin S. Weigle

"While studying mathematics at the University of Delaware, two gifted professors introduced me to the world of operations research (Dr. Adi Ben-Israel) and mathematical modeling (Dr. Clifford Sloyer). Little did I realize that those academic introductions would not only determine my career, but help shape the course of my life, as well," Weigle said. "I look back upon my time at the University with such pride of accomplishment."

Carolann D. Wicks is a trailblazer in the field of transportation planning. In 2002, she became the first female chief engineer/director for the Delaware Department of Transportation (DelDOT). Managing a budget of almost one-quarter of a billion dollars, Wicks oversees a state transportation department that is atypical in that it has responsibility for almost all of the roads in the state. During her 19 years with DelDOT, Wicks has been in charge of some of the state's most complex and challenging transportation projects.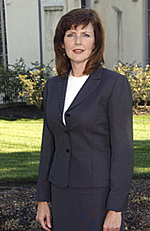 Carolann D. Wicks

"There were many unexpected correlations between my experiences working for government and the courses I took for my master's," Wicks said. "Although I knew a master's in public administration would in general complement my engineering education, I was pleasantly surprised at the degree to which it did. The courses were intellectually stimulating because I could easily correlate the subject matter to real-world situations or examples at DelDOT. The courses were therefore very relevant, enjoyable and provided me knowledge that I could apply to my career goals for years to come."

Article by Martin Mbugua
Photos by Kathy Atkinson
E-mail this article
To learn how to subscribe to UDaily, click here.