UDaily is produced by the Office of Public Relations
The Academy Building
105 East Main St.
Newark, DE 19716-2701
(302) 831-2791

Undergrads recognized for research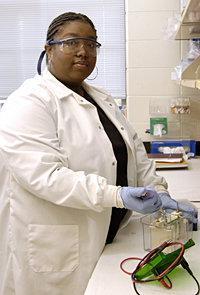 Nicole Barkley

4:23 p.m., Oct. 28, 2005--Three UD undergraduates have been recognized for outstanding research by the University of Maryland Baltimore County's (UMBC) eighth annual Undergraduate Research Symposium in the Chemical and Biological Sciences, held Oct. 15 at UMBC.

Nicole Barkley and Andrew Farach, seniors, took first and second place, respectively, in biochemistry and molecular biology. Junior Shaila Parker won third place in the biological sciences category. Research results were presented as posters that students were expected to explain and defend.

UD students attending the symposium are part of the Network of Undergraduate Collaborative Learning Experiences for Underrepresented Scholars (NUCLEUS) program, which is supported by the Howard Hughes Medical Institute.

The symposium, according to UBMC's web site, "represents UMBC's efforts to offer a unique and intimate venue in which the region's premiere chemists, biochemists and biologists of tomorrow can present the fruits of their research efforts in a relaxed yet stimulating format." More than 400 students and mentors generally attend these symposia.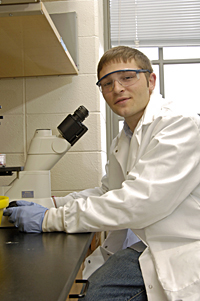 Andrew Farach

Barkley's research examines advanced prostate cancer and factors in the bone that cause cancer cells to be restrained during chemotherapy. Her research mentors are Freddie Pruitt, graduate student and former NUCLEUS/Howard Hughes Medical Institute scholar, and Carlton R. Cooper, assistant professor of biological sciences at UD.

Farach, a Charles Peter White Summer Fellow, has been studying sugar modification of newly made proteins inside cells in the developing brain to determine if the protein modification is essential for the normal function of radial glia guide cells. His mentor is Deni Galileo, assistant professor of biological sciences at UD.

Parker's research focuses on bone marrow reconstitution by somite-derived, adult skeletal muscle cells. Her mentor is Louis Kunkel of the Division of Genetics at Harvard Medical School.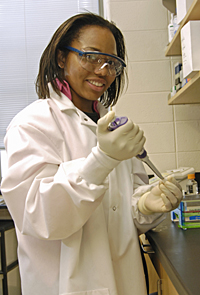 Shaila Parker

Cooper accompanied the NUCLEUS students to the symposium. He said he is extremely proud of these students.

The symposium was cosponsored by Procter and Gamble and the NIH-National Institute of General Medical Science.

Article by Barbara Garrison
Photos by Kathy Atkinson
E-mail this article
To learn how to subscribe to UDaily, click here.