UDaily is produced by the Office of Public Relations
The Academy Building
105 East Main St.
Newark, DE 19716-2701
(302) 831-2791

3 students awarded Goldwater Scholarships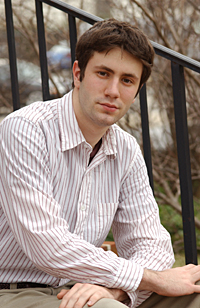 Geoffrey Oxberry

2:48 p.m., April 8, 2005--Three University of Delaware students--James J. Parris, a junior biochemistry major, Agata Bielska, a junior biochemistry major, and Geoffrey Oxberry, a junior chemical engineering major--have been awarded 2005-06 academic year scholarships by the Barry M. Goldwater Scholarship and Excellence in Education Foundation.

The scholarship program, honoring the late U.S. Sen. Barry M. Goldwater, is designed to encourage outstanding students to pursue careers in the fields of mathematics, the natural sciences and engineering. The Goldwater Scholarship, the premier undergraduate award of its type in these fields, covers the cost of tuition, fees, books and room and board up to $7,500 per year.

"It is an honor to be considered among the top undergraduate researchers at the University and throughout the country," Parris, of Newark, said. "Receiving the scholarship has strengthened my desire to pursue a doctoral degree in the field of biomedical science, and it will help greatly in achieving this goal."

Parris, who has been conducting research on the protein junctional adhesion molecule with Ulhas Naik, associate professor of biological sciences, recently submitted a first-author paper to be published in the journal Developmental Dynamics.

"I was ecstatic when I first heard the news," Bielska said. "The fact that three students from UD got the award is a tribute to the opportunities and support that UD provides for undergraduate researchers."

Bielska, from Coopersburg, Pa., said the scholarship will strengthen her drive to follow the path she had already set for herself. She recently attended the American Society of Biochemistry and Molecular Biology (ASBMB) meeting in San Diego where she presented a poster of her research on protein phosphorylation with Neal Zondlo, assistant professor of chemistry and biochemistry.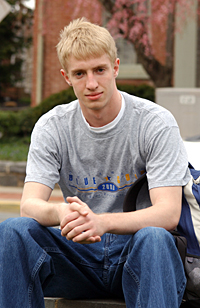 James Parris

Oxberry, of Plymouth Meeting, Pa., said the award speaks for the quality of UD's chemical engineering department. "Receiving the scholarship has caused me to broaden my goals. I'm already investigating opportunities for postgraduate fellowships," he said.

Oxberry is conducting research on data reduction through scientific visualization of viscoelastic turbulence with Antony Beris, Arthur B. Metzner Professor of Chemical Engineering.

This year's Goldwater Scholars were selected on the basis of academic merit from a field of 1,091 mathematics, science and engineering students who are nominated by the faculties of colleges and universities nationwide.

Goldwater Scholars' impressive academic qualifications have garnered the attention of prestigious postgraduate fellowship programs. Recent Goldwater Scholars have been awarded 58 Rhodes Scholarships, 72 Marshall Awards (six of the 40 awarded in the United States in 2005) and numerous other distinguished fellowships.

Article by Martin Mbugua
Photos by Kathy F. Atkinson
E-mail this article
To learn how to subscribe to UDaily, click here.