Rich Gannon headlines 2005 Hall of Fame class
4:56 p.m., Sept. 20, 2005--Former National Football League Most Valuable Player Rich Gannon, who retired this season as quarterback of the Oakland Raiders, headlines the University of Delaware Athletics Hall of Fame Class of 2005.
In addition to Gannon, the class includes field hockey and lacrosse standout Andrea "Ange" Bradley; record-setting track and field sprinter Dionne Jones Dendy; All-American lacrosse player John Grant; record-setting freestyle swimmer Nancy Davis Herb; the late Bob Kelley, who for many years was the voice of UD football; Texas Rangers outfielder Kevin Mench; and field hockey and softball standout Joan Schimpf Samonisky.
The Class of 2005 will be formally inducted into the UD Athletics Hall of Fame during ceremonies at 6 p.m., Friday, Nov. 4, at the Bob Carpenter Sports/Convocation Center. The group will be honored again before the Fightin' Blue Hens football game against the University of Massachusetts on Saturday, Nov. 5, on Tubby Raymond Field in Delaware Stadium.
"We once again are pleased to induct an outstanding class of former Delaware scholar-athletes into the UD Athletics Hall of Fame," Director of Athletics Edgar Johnson, who will host the induction ceremony, said. "This year's class includes individuals who not only enjoyed great success while at the University of Delaware but have moved on to become nationally recognized sports figures. We are very proud of all the inductees and their accomplishments of the past and present."
Andrea L. "Ange" Bradley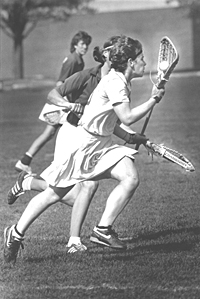 Andrea L. "Ange" Bradley

Bradley, who is the field hockey head coach at the University of Richmond, made her mark at UD as both a record-breaking goalkeeper in field hockey and as a tough and steady defender in lacrosse from 1984-88. The native of Drexel Hill, Pa., was a four-year starter in both sports and was named UD's outstanding senior female athlete in 1987-88.

In field hockey, she led nationally ranked UD teams to three East Coast Conference regular season titles and was the ECC Player of the Year in 1987. She set seven school records, including marks for career saves (477), shutouts (26) and save percentage (.891).

In lacrosse, she led nationally ranked teams to two ECC titles and was a two-time All-ECC selection.

An honor student, Bradley earned her degree from UD in 1988 and has enjoyed a successful college field hockey coaching career. She was head coach at Goucher College and an assistant at the University of Iowa and the University of Maryland before accepting the position as head coach at Richmond in 2001.

Dionne Jones Dendy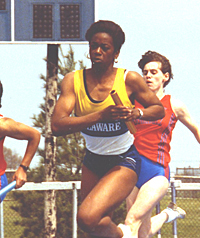 Dionne Jones Dendy
Dendy was one of the most dominating track performers in UD history and was virtually unbeatable in the sprint events from 1988-91. She established seven school records and won 15 conference titles, more than any female athlete in UD history.
A native of Camden, N.J., Dendy won eight East Coast Conference outdoor sprint titles and seven indoor titles and is the only athlete in school history be named the outstanding performer at conference championship meets three times, earning the honors indoors in 1990 and 1991 and outdoors in 1991. She won three straight ECC indoor 55-meter sprint titles and three consecutive outdoor 100-meter titles, and led the Hens to three conference team titles.
A 1992 UD graduate, she set school records in the indoor 55 meters (7.21), 200 meters (25.60) and mile relay, and also in the outdoor 100 meters (11.81), 200 meters (24.81), 400-meter relay (47.75), and mile relay (3:55.37).
She is a nurse and resides in Claymont with her husband, Mark, and their three children.
Rich Gannon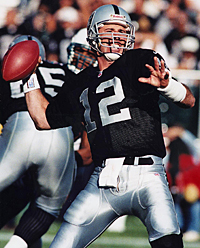 Rich Gannon
One of the most widely recognized athletes in UD history, Gannon was an All-American quarterback for the Hens and enjoyed a stellar 18-year tenure in the NFL. The native of Philadelphia was a three-year starting quarterback and was named an All-American in 1986, when he was the Yankee Conference Player of the Year and led the Hens to the NCAA Division I-AA championship tournament quarterfinals.
Gannon established 21 UD records, including career marks for passing yards (5,927), total offense (7,436) and rushing yards by a quarterback (1,509), and was named UD's outstanding senior male athlete in 1986-87.
Gannon was a fourth-round pick in the 1987 pro football draft and went on to an outstanding NFL career with the Minnesota Vikings, Washington Redskins, Kansas City Chiefs and Oakland Raiders. With the Raiders, Gannon was a three-time All-Pro selection and was the NFL Most Valuable Player in 2002. He led Oakland to the 2003 Super Bowl.
A 1987 graduate of UD, Gannon retired in August after a season-ending neck injury in 2004 and currently is a football analyst for CBS Sports. He resides with his wife and two daughters in Excelsior, Minn.
John Grant
John Grant
Grant established himself as one of the most exciting and successful lacrosse players in UD history in just two seasons with the program in 1998-99, and remains one of the top professional lacrosse players in the world. A dominating offensive player with a combination of strength, speed and a blazing shot, Grant recorded 81 goals and 96 assists for 177 points in just 32 career games for the Hens.
The native of Ontario, Canada, was a two-time U.S. Intercollegiate Lacrosse Association All-American at UD, earning first team honors as a senior in 1999 when he led all NCAA Division I players with 110 points and was named the winner of the prestigious Enner Award as the USILA National Player of the Year.
Grant led UD to its best season in school history in 1999, when the Hens went 14-3 and advanced to the NCAA Division I championship tournament quarterfinals. A year later he served as an assistant coach for the Hens.
A 2000 graduate of UD, Grant has moved on to an All-Star career with professional indoor and outdoor teams in Rochester, N.Y., where he now resides.
Nancy Davis Herb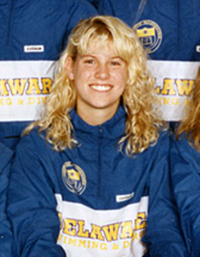 Nancy Davis Herb
Herb was an outstanding freestyle swimmer who had set more school records than any swimmer in UD history when she graduated in 1997. The native of Southampton, Pa., led the Hens to team championships in the North Atlantic Conference and the America East Conference and won five individual conference titles during her career. A three-time team most valuable performer, she was named UD's outstanding senior female athlete in 1997.
Herb set UD records in the 50 freestyle (24.36), 100 freestyle (52.78), 200 freestyle (1:52.94), 500 freestyle (5:00.36), 1,000 freestyle (10:25.10), 1,650 freestyle (17:09.99), 400-medley relay (4:01.93) and 800 freestyle relay (7:49.31). She won three straight conference titles in the 1,650 freestyle and two straight titles in the 500 freestyle, and earned All-East honors five times.
An honor student in elementary education, she earned her degree from UD in 1997. She resides in Frederick, Md., with her husband, Mark Herb. She is an elementary school teacher and formerly served as part-time head swimming coach at Ursinus College.
Bob Kelley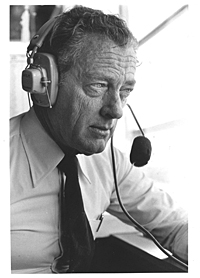 Bob Kelley
Mr. Kelley, a noted broadcaster, sportswriter and publicist, made his mark at UD as the distinctive and knowledgeable "voice of the Blue Hens" on WILM and WDEL radio broadcasts for 38 football seasons from 1950-87 and for 17 men's basketball seasons from 1962-79. The native of Yonkers, N.Y., came to Delaware as a sportswriter for the Wilmington Morning News and began his broadcasting career covering local high school games before being hired by UD's Dave Nelson to broadcast for the Hens. Mr. Nelson often credited Mr. Kelley with playing a key role in building the great tradition of Delaware football.
Mr. Kelley later served as publicity director for Delaware Park and was a founding member of the Delaware Sports Museum and Hall of Fame. He died in 1988 at the age of 60 and was inducted into the Delaware Sports Museum and Hall of Fame posthumously in 1989.
The Delaware Stadium press box is named in his honor.
His wife, Janice, who resides in Wilmington, will represent Mr. Kelley at the induction ceremony.
Kevin Mench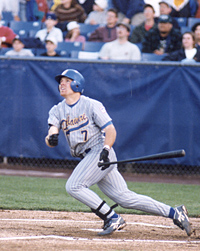 Kevin Mench
Mench is considered the greatest slugger in UD's rich baseball history and was among the nation's top collegiate players from 1997-99. He has gone on to an outstanding career as an outfielder for the Texas Rangers of Major League Baseball.
A native of Newark and a 2000 UD graduate, Mench was a three-time all-conference selection, a two-time conference player of the year and a two-time All-American. He established a number of school records, including marks for home runs in a season (33) and career standards for home runs (71), batting average (.409), and slugging percentage (.875).
Mench captured the America East Conference "triple crown" in 1998 when he batted .455, led the NCAA with 33 home runs and knocked in 72 runs. He was named national player of the year by Collegiate Baseball Magazine and was a consensus All-American.
He led the Hens to a three-year record of 123-45, two conference titles and NCAA tournament berths in 1998 and 1999.
Mench resides in Keller, Texas.
Joan Schimpf Samonisky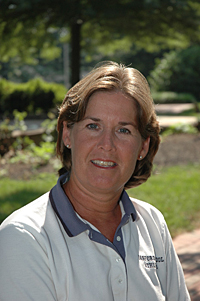 Joan Schimpf Samonisky
Samonisky was an exceptional all-around athlete who enjoyed great success in field hockey and softball at UD from 1976-79. She also was an accomplished amateur golfer. She lettered three years each in field hockey and softball and served as team captain for both squads.
As a field hockey midfielder, Samonisky led the Hens to a three-year mark of 38-13-9 and three straight national top four finishes in the Association of Intercollegiate Athletics for Women (AIAW). The Hens were national runners up in 1978.
In softball, Samonisky was a four-year standout outfielder who batted .401 for her career and graduated with a number of school records, including marks for career hits, home runs and stolen bases. She was named UD's outstanding senior female athlete in 1978-79.
The Wilmington native graduated with honors from UD in 1979 and moved on to a career as one of Delaware's top high school field hockey coaches and athletics administrators. She currently serves as director of athletics and head field hockey coach at the Sanford School in Hockessin after serving in the same capacities at Caravel Academy in Bear.
She is the wife of UD men's soccer head coach Marc Samonisky, and they reside in Newark with their two daughters.
E-mail this article
To learn how to subscribe to UDaily, click here.