UDaily is produced by the Office of Public Relations
The Academy Building
105 East Main St.
Newark, DE 19716-2701
(302) 831-2791

Activist urges winning hearts, minds in Iraq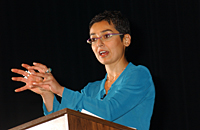 Zainab Salbi, the Iraqi-American founder and president of Women for Women International: "Unless we understand that people need to eat, that people need to survive, we can't talk about the big issues of freedom and democracy."

2:58 p.m., April 29, 2005--Unless the U.S. helps meet the basic needs of Iraqis, insurgents will continue to make significant gains in the struggle for hearts and minds, Zainab Salbi, the Iraqi-American founder and president of Women for Women International, said at UD on Tuesday, April 26.

"We've got to actually step back and have a more complex understanding of the reality of war," Salbi said. "Unless we understand what people are going through, we will not be able to understand how we solve the issues. Unless we understand that people need to eat, that people need to survive, we can't talk about the big issues of freedom and democracy."

In her lecture, "Secret Potion: Worldwide Women," Salbi said insurgents and Islamic radicals have been offering sacks of rice, money and even clothing to women in exchange for at least one boy per family enrolling in Islamic religious schools, known as madrassa. Such incentives, she explained, are irresistible to many women who have limited income and several children to feed.

Salbi said a recent survey by her organization found that 12 percent of Iraqi women now believe that religious organizations play a major role in meeting their families' basic needs, a connection that did not exist when the war in Iraq began two years ago.

"Unless we compete with the sack of rice, with that concept, we will not win it, we cannot win," Salbi said. "We need to understand the reality of people, of their daily, mundane issues. In many ways we are stuck in concepts and theories and democracy and freedom...but how can we get that across if you don't have food? One Iraqi man told me, 'America came to someone who had been in a coma for 35 years, and, when you wake up from a coma, no one asks you who you want to vote for, they ask you: What do you want to drink? What do you want to eat? What are you craving?'"

Salbi, whose nonprofit organization is dedicated to providing women survivors of war, civil strife and other conflicts with the tools and resources to move from crisis and poverty into self-sufficient and active citizens who promote peace and stability, said the example set by British troops in southern Iraq shows that helping meet basic needs can win troops friends in hostile territory.

"At the end of the day, it is cheaper to actually build peace by doing these small things . . . than it is to build war," Salbi said. "Much, much cheaper. It's cheaper to pave a road than to buy a bullet, from a very pragmatic approach, and you win the hearts and minds of people."

In addition, any meaningful postwar reconstruction effort must include the input of women and direct benefits to the neediest members of the society, Salbi said. She cited the examples of countries like Rwanda and South Africa, both of which decided on their own to include significant numbers of women in legislation and government, including 49 percent of the Rwandan parliament. When women are relegated to the back seat in leadership, the entire community suffers, she said.

Salbi said tacit worldwide approval of violence against women, especially by the military, means that the women caught in dozens of conflicts have taken the brunt of war by not only losing their homes and livelihoods but by being raped, tortured and even killed.

"The rape in war, in [the Democratic Republic of the] Congo, as well as in other countries, is very strategic: They come. They rape. They kill. They pillage--no matter which country you go to," Salbi said. "Part of the problem is that we tolerate it. We have been conditioned as a society to accept violence against women. We are horrified at it, we are upset about it, but we are not so upset [that we] do something about it."

Salbi's experience with the Iran-Iraq War and the Gulf War sensitized her to the plight of women survivors of war and led her to found Women for Women International at age 23. An Iraqi native who arrived in the U.S. at age 19, Salbi has worked with indigent women in Bosnia, Afghanistan, Rwanda, Kosovo, Pakistan, Colombia, Nigeria and Iraq.

Women for Women International programs have helped 24,000 women and more than 103,000 of their family members and distributed nearly $14 million in direct aid and microcredit loans. The organization also promotes sponsorship of women at the cost of $27 per month and correspondence between sponsors and beneficiaries.

Salbi caused laughter when she told the audience about the puzzled reaction by severely impoverished beneficiaries when they read letters with passionate stories about their sponsors' pets. "One Rwandese woman said, 'There seems to be so much love in America that even the cats and dogs are getting it,'" she said.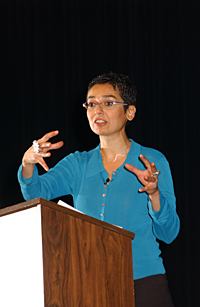 "We have been conditioned as a society to accept violence against women. We are horrified at it, we are upset about it, but we are not so upset [that we] do something about it."

Such correspondence and sponsorship, Salbi said, is one way in which Americans can reach out to people in need and "humanize" the relationship between the U.S. and other countries.

Salbi said women had generally made great strides in the world but there is plenty more work to be done. "We need to get women at the negotiating table for societal reasons because when they are not at the negotiating table, they end up being negotiated," she said. "We've learned to talk the talk, but we have not learned to walk the walk."

Salbi said women should have a major role in organizing and decision-making. Social recognition that women are important and a commitment by leaders to deliberately and actively seek women for key roles are critical, she said.

Alice Ba, UD professor of political science and international relations, who introduced Salbi, paid tribute to Salbi's work and the accomplishments of Women for Women International.

"The money is important, but even more important than that is that Ms. Salbi and her organization have provided women who have suffered so much a caring ear, an emotional lifeline, a voice, a ready sisterhood of women, hope," Ba said. "She's also been a extremely articulate in reminding the world community that societies that exclude and neglect women and women's issues do so to their own detriment."

Salbi's lecture is part of "Prescription for the President: Policy Medicine for Global Challenges," a series of Global Agenda lectures, which are free and open to the public.

The lectures by diplomats, journalists and other foreign affairs practitioners focus on the international problems facing President George W. Bush in his second term. Such concerns include the occupation and war in Iraq, as well as nuclear threats in North Korea, Iran and Russia. Other issues addressed by the series include terrorism, the Arab-Israeli conflict and political and economic challenges in Europe and Asia.

The next lecture will be "Asia Enigma: China and North Korea," May 4, with Ambassador Wendy Sherman, former National Security Council and State Department adviser to President Bill Clinton and Secretary of State Madeline Albright. From 1997-2001, Sherman was the counselor of the Department of State, serving then-Secretary Albright as special adviser and consultant on major issues of foreign policy.

Organized by Ralph Begleiter, UD's Rosenberg Professor of Communication and Distinguished Journalist in Residence, the series is designed to survey potential threats to the United States and explore the complex framework of global relations. The series is cosponsored by the University of Delaware and the World Affairs Council of Wilmington.

For more information on the speakers and their subjects, visit [www.udel.edu/global]. For general information on the series, call the Department of Communication at (302) 831-8041. For more information on Women for Women International, visit [www.womenforwomen.org].

Article by Martin Mbugua
Photos by Duane Perry
E-mail this article
To learn how to subscribe to UDaily, click here.