UDaily is produced by the Office of Public Relations
The Academy Building
105 East Main St.
Newark, DE 19716-2701
(302) 831-2791

Biology prof honored diversity initiatives
Prof. David Usher confers with Marysol Lavander, a Del Tech student who gained research experience last summer at UD as part of the Bridges to Baccalaureate Program.

11:52 a.m., Sept. 23, 2005--David Usher, associate professor and associate chairperson of the Department of Biological Sciences, was honored with a National Faculty Mentor Role Model Award from Minority Access Inc. at its sixth National Role Models Conference this month in Las Vegas.

The conference, whose theme was "Diversity in Retrospect and Prospect: Expanding the Pool of Researchers to Reduce Health Disparities," honored individual and institutional role models in expanding the pool of minority researchers.

Usher said he was honored to be included among those individuals who have been recognized with the prestigious award for their efforts to increase diversity.

According to Andrea Mickle, president and chief executive officer of Minority Access, Usher "symbolizes Minority Access' ideal faculty mentor role model--one who has contributed to increasing the pool of minority researchers through mentoring and supporting minority students."

A letter to Usher from Minority Access stated, "Our aims are to pay tribute to you personally for your achievements and to provide guidance to others."

Usher was recognized for his many contributions to providing educational opportunities and support to underrepresented and minority students.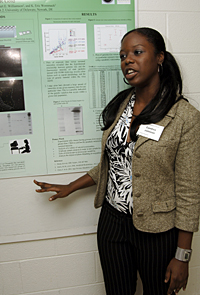 Candice Johnson, a junior environmental science major from Lincoln University in Pennsylvania, was one of about 600 participants in UD's Undergraduate Research Program last summer. Conceived by Prof. David Usher, the program gives talented, motivated undergraduates a chance to see and take part in what is happening on the front lines of research.

He helped establish and directs the Bridges to the Baccalaureate Programs between UD and Delaware Technical and Community College. The program encourages underrepresented students to pursue careers in biomedical research by providing Del Tech students with the tools to make a smooth transition to UD.

The Bridges program offers academic assistance, research opportunities and involvement in UD's NUCLEUS (Network of Undergraduate Collaborative Learning Experiences for Underrepresented Scholars) program. Usher serves as assistant director of NUCLEUS, which is funded by the Howard Hughes Medical Institute and encourages and prepares academically talented students, including minority students, in the sciences to enter graduate and professional school programs and science-related professions.

Usher also received the Mentor of the Year Award from UD's Ronald E. McNair Post Baccalaureate Achievement Program, which prepares underrepresented students for postgraduate careers in research and education.

In addition, Usher has applied for a Department of Defense grant to provide students from Lincoln and Delaware State universities with opportunities to work in laboratories on prostate cancer research at UD in conjunction with his colleague Robert Sikes, assistant professor of biological sciences.

A graduate of the University of California at Irvine with a master's degree and doctorate from the University of Iowa, Usher joined the UD faculty in 1978.

Article by Sue Moncure
Photos by Kathy F. Atkinson
E-mail this article
To learn how to subscribe to UDaily, click here.