UDaily is produced by the Office of Public Relations
The Academy Building
105 East Main St.
Newark, DE 19716-2701
(302) 831-2791

Murder victim identified, autopsy report pending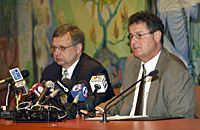 William Nefosky (left), Newark police captain, and Gerald Conway, Newark police chief, present the results of their initial investigation into death of UD sophomore Lindsey M. Bonistall.

7:06 p.m., May 2, 2005--Lindsey M. Bonistall, a 20-year-old UD sophomore English major from White Plains, N.Y., has been identified by Newark Police as a homicide victim. Her body was discovered after an arson fire in her Towne Court apartment early Sunday, May 1.

According to William Nefosky, Newark police captain, the death is being investigated as a homicide, and an autopsy report is expected to be released Tuesday.

"We have no suspects at this point," Nefosky said at a Monday afternoon news conference at police headquarters. "We think it's a stranger."

Nefosky said police are investigating the crime as "a possible home invasion," but added, "We ruled out that this crime is related to any of the home invasions [in Newark] earlier in the year."

Police will add extra patrols to the Towne Court Apartments area, Nefosky said, and will release new information to the UD community as it becomes available.

Aetna Hose, Hook & Ladder Co. responded to the Towne Court Apartments fire at 2:49 a.m., Sunday, May 1, and extinguished the fire, which had started in the bathroom and was confined to the second-floor unit. The Newark fire marshal responded to the scene shortly after the fire was extinguished and began an investigation.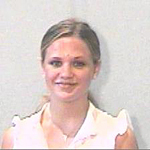 ID photo of Lindsey M. Bonistall

At 4:13 a.m. that same morning, another fire was reported in the 200 block of Murray Road in Newark. That fire was considered suspicious, Nefosky said, and the fire marshal responded to that scene to investigate it and later ruled it arson.

After completing the investigation on Murray Road, the fire marshal returned to 81 Thorn Lane to resume the investigation of that fire. During the investigation, the fire marshal found that that fire also was arson. He then contacted the Newark Police Department. Upon further investigation, Ms. Bonistall's body was discovered in the bathroom under a large pile of debris from the fire.

"The entire University of Delaware community is shocked and saddened by this terrible tragedy," UD President David P. Roselle said. "We extend our deepest sympathies to the members of the Bonistall Family as well as to her family of friends here on the University campus.

"Miss Bonistall was a popular student, and our Center for Counseling and Student Development will be available to provide assistance desired by any of her many friends," Roselle said.

Article by Becca Hutchinson
Photo by Kevin Quinlan
E-mail this article
To learn how to subscribe to UDaily, click here.