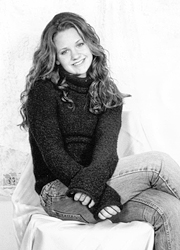 Lindsey M. Bonistall

May 5, 2005--Lindsey Marie Bonistall, 20, a UD sophomore from White Plains, N.Y., was murdered May 1.

At UD, Ms. Bonistall was an English/journalism major, and she had published several articles in The Review, the student newspaper.

UD President David P. Roselle said, "The entire University of Delaware community is shocked and saddened by this terrible tragedy. We extend our deepest sympathies to the members of the Bonistall Family as well as to her family of friends here on the University campus."

According to an obituary released by the family, Ms. Bonistall attended St. Anthony Elementary School in West Harrison and graduated as a Presidential Award recipient from Good Counsel Academy.

A talented gymnast, she was a member of the nationally ranked Good Council Cheerleading and Empire State All Star Cheerleading Teams. She was awarded the Westchester County Cheerleadership Scholarship and coached cheerleading on a local and national level for the Universal Cheerleading Association. Ms. Bonistall also was the captain of her high school soccer and track team, an active volunteer and a leader on the Mayor's Youth Council in White Plains.

The obituary reads, in part, "With her bright smile and mischievous manner, it was clear early on she would embrace life with incredible humor and affection.... It is said we measure the significance of our lives by valuing the lives of others. Lindsey exemplified this by consistently seeing the best in those she touched and living her life honoring the family mantra of 'love one another.' Life without her warm smile, comical ways and heartfelt hugs will be a challenge. Yet we know in our hearts she will be with us through our own journeys every step of the way."

She is survived by her parents, Mark and Kathleen Bonistall; an older sister, Kristen; her grandmothers and many aunts, uncles and cousins.

Visitations will be held from 5-9 p.m., Thursday, May 5, and from 2-4 and 7-9 p.m., Friday, May 6, at McMahon, Lyon & Hartnett Funderal Home, 491 Mamaroneck Ave., White Plains, N.Y. The Mass of Christian Burial will be at 10 a.m., Saturday, May 7, at St. Anthony of Padua Catholic Church, 85 Harrison St., Harrison, N.Y.

In lieu of flowers, the family requests donations to: Victims Assistance Services, Elmsford, N.Y., telephone (914)345-3113.

Condolence notes may be sent in care of McMahon, Lyon & Hartnett Funeral Home, 491 Mamaroneck Ave., White Plains, NY 10605.