UDaily is produced by the Office of Public Relations
The Academy Building
105 East Main St.
Newark, DE 19716-2701
(302) 831-2791

4 faculty win top A & S awards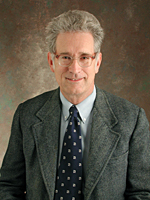 Harold White

1:44 p.m., June 13, 2005--Each year the College of Arts and Sciences recognizes faculty members' outstanding contributions to the life of the University by giving awards in four categories: teaching, scholarship, advisement and service. Each recipient received a cash award of $1,000.

Harold White, professor of chemistry and biochemistry and director of the Howard Hughes Medical Institute's Undergraduate Science Education Program at UD, received the Outstanding Teaching Award. The award is based on student and peer evaluations, alumni testimonials, the number and range of courses offered, involvement in individual instruction, quality of advisement and mentoring, demonstrated commitment to student welfare and development and an acknowledged reputation in teaching.

White's research interests are in the structure, function and evolution of vitamin-binding proteins. More recently, his interests have focused on undergraduate education and he has been a leader in problem-based learning (PBL) and is a member of the Institute for Transforming Undergraduate Education and is PBL features editor for Biochemistry and Molecular Biology Education. A graduate of Pennsylvania State University, he received his doctorate from Brandeis University and was a postdoctoral research fellow at Harvard University before joining the UD faculty in 1971.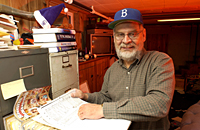 David Smith

David Smith, associate professor of biological sciences, received the Arts and Sciences Outstanding Advisement Award, based on excellence in academic advisement of undergraduate students, including the number of student advisees, the quality of advisement, availability, communication, knowledge of college programs and overall impact on students through advising.

Smith's research focuses on the bacterial activities of the sulfur and nitrogen cycles in a salt marsh in Lewes. Smith won the University's excellence-in-teaching award in 1977. He is a graduate of the University of California, San Diego, and he received his master's degree from Indiana University and his doctorate from the University of Wisconsin, with postdoctorate work at the University of California, Los Angles, before joining the UD faculty in 1975.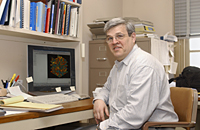 William Matthaeus
William Matthaeus, professor of physics and astronomy, received the Outstanding Scholar Award, based on publications, professional honors, receipt of competitive grants, scholarly contributions and an acknowledged reputation in scholarship. Matthaeus does research in the fields of space physics, plasma, turbulence theory and computational physics. Matthaeus is a fellow of the American Geophysical Union and the American Physical Society, a recipient of the American Geophysical Union's Macelwane Prize and has served on several advisory committees, including the National Academy's Decadal Survey Committee for Solar and Space Physics. He received his doctorate in theoretical plasma physics from the College of William and Mary and joined the Bartol Research Institute at UD in 1983.
Joseph Pika, professor of political science and international relations, was awarded the Outstanding Service Award in March, based on extraordinary service within the college, University, academic profession and larger community.
Pika has served on the UD Board of Trustees and also has served on the State Board of Education since 1997, becoming president in 2001. At UD, Pika received the excellence-in-teaching award in 1987 and the excellence-in-advising award in 1992.
Joseph Pika

Pika chaired the political science and international relations department from 1994-99, was faculty director of the Delaware Social Studies Education Project from 1999-2001 and was executive director of the Governor's Commission on Government Reorganization and Effectiveness in 1993.

Joining the UD faculty in 1981, Pika received his bachelor and master's degrees from Johns Hopkins University and his doctorate from the University of Wisconsin-Madison. He has written two books on the U.S. Presidency and several articles on the office of the presidency.

Article by Sue Moncure
Photos by Kathy F. Atkinson and Kevin Quinlan
E-mail this article
To learn how to subscribe to UDaily, click here.