UDaily is produced by the Office of Public Relations
The Academy Building
105 East Main St.
Newark, DE 19716-2701
(302) 831-2791

Professor explores style in 'The Sound on the Page'

4:30 p.m., Sept. 9, 2004--The Sound on the Page: Style and Voice in Writing by English professor, Ben Yagoda, a quick-paced, lively new book about how writers write and to some extent how readers read, has won praise from reviewers and writers.

The New York Times reviewer wrote, "Don't read this unless you have ever tried to write something...Ben Yagoda's book is not so much for the reader as for the writer in the reader." Booklist called it "a sophisticated and scintillating writer's resource," and Mark Bowden, author of Black Hawk Down, wrote, "This is an ingenious and memorable exploration of writing's soul..." A reviewer in Library Journal said, "Overall, this entertaining and instructive book should be part of any writing collection."

Among the factors affecting Yagoda's decision to write The Sound on the Page was teaching journalism and feature writing at UD.

"Reading students' work made me more aware of individual style. Some of the best writers in my classes had a distinctive way of expressing themselves and selecting and using words," he said.

Another was his earlier book, About Town: The New Yorker and the World It Made. Style is an integral part of The New Yorker, not only individual writers' styles but the magazine's own style conventions, he said.

There also was a gap in books about style, Yagoda said. On the one hand was E. B. White and William Strunk's The Elements of Style, which views style as an invisible container of content. "This is something of a paradox because the authors themselves had a distinct, identifiable style of writing," Yagoda said.

On the other hand, he writes in The Sound on the Page, are books, where "from page one, the end is self-expression, self-fulfillment...I almost wrote self-abuse." Compared to White's "button-down school of writing, these authors belong to an alternative academy, dressed, as it were, in Hawaiian shirts, drawstring hemp pants and sandals."

"There didn't seem to be a book that held two different but hardly contradictory ideas about style... That is the book I decided to write," Yagoda writes in his introduction.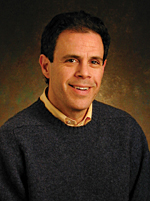 Ben Yagoda

To learn about style, Yagoda went directly to the source—writers of all kinds, from poets to humorists to novelists—and asked them their definitions and views of style and the influences of other writers upon them. As he writes in the book, "Writers read for style. That more than anything else separates the professionals from the civilians." Readers may choose an author for a number of reasons from the dust jacket to the happy endings, but "when one writer falls under another's spell,...it is because of style."

Among the writers he interviewed was humorist Dave Barry, who writes a nationally syndicated column. According to Yagoda, his columns are based on "four principal themes: Airline food is bad, it's hard to live with an adolescent, males and females are essentially different and the United States sure is a weird country." During his interview with Barry, Yagoda said he discovered that the short, conversational column Barry produces each week, takes him a full workweek to write, getting just the right word, expression and tone he wants to achieve.

Another who responded to Yagoda was author John Updike, who wrote, "Style, as I understand it, is nothing less than the writer's habits of mind—it is not a kind of paint applied afterwards, but the very germ of the thing."

Style in writing is as individual as a fingerprint, according to Yagoda. "Voice is a good metaphor," Yagoda said. "When speaking to a friend, you know immediately who it is by their voice, inflections and way of speaking. A distinctive way of writing also is identifiable."

Writers approach writing in individual ways, Yagoda found. Some will depend totally on handwritten manuscripts; others write using a keyboard (Yagoda's preference). Yagoda also discusses e-mail ("thumbs up to slang, brevity and contractions") and writing for the web ("a medium for some fresh and intriguing styles and voices").

Although the The Sound on the Page is not intended as a how-to text, there are some exercises in the last part of the book. Yagoda writes, "I'm not about to throw up my hands and leave style to the fates... Certainly, it can't be achieved by any kind of step-by-step guide, but following certain strategies and principles will clear a path for its arrival." One he suggests is "active reading," even reading aloud or trying to write something in the style of an admired author. Or reverse imitation—taking a selection and rewriting it in a totally different style.

He concludes, "Anyone who puts pen to paper can have a prose style...then you can start to shape and develop it. That project can last as long as you keep writing, and it never gets old."

A graduate of Yale, Yagoda has a master's degree in American civilization from the University of Pennsylvania and joined the UD faculty in 1992. A freelance writer who has published articles in several leading periodicals, he is the author of Will Rogers: A Biography and coeditor with Kevin Kerrane, UD professor of English, of The Art of Fact: A Historical Anthology of Literary Journalism.

Article by Sue Moncure
Photo by Robert Cohen
E-mail this article
To learn how to subscribe to UDaily, click here.