UDaily is produced by the Office of Public Relations
The Academy Building
105 East Main St.
Newark, DE 19716-2701
(302) 831-2791

Summer research symposium sets record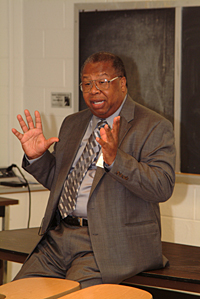 Isiah Warner, Boyd Professor and Philip W. West Professor of Analytical and Environmental Chemistry at Louisiana State University

10:56 a.m., Aug. 23, 2004--A record-breaking 94 undergraduate students presented posters or gave talks in the Summer Undergraduate Research Symposium, held Wednesday, Aug. 11, in Brown and McKinly labs.

The symposium is sponsored by organizations that provide summer research scholarships in life sciences for undergraduate students—the Howard Hughes Medical Institute's (HHMI) Undergraduate Science Education Program, UD Undergraduate Research Program, Charles Peter White Fellowships, Beckman Scholars Program, UD Chapter of Sigma Xi, Ronald McNair Scholars Program, College of Marine Studies, National Science Foundation Research Experiences for Undergraduates Program, Biomedical Research Infrastructure Network Program-Delaware Biotechnology Institute.

The poster session is designed to simulate a national conference in which undergraduate students present their research on posters, and the best are selected for recognition. UD students have won top honors at national American Society for Biochemistry and Molecular Biology (ASBMB) meetings. ASBMB is a scientific and educational organization with more than 10,000 members at colleges and universities and various government laboratories, nonprofit research institutions and industry.

The symposium and the summer enrichment program, conceived by David Usher, associate professor of biological sciences and assistant director of the HHMI program, is now in its fourth year. It is designed to enhance scholarship-funded laboratory research conducted during the summer by undergraduate students in biological sciences, chemistry and biochemistry, medical technology, physical therapy, animal and plant sciences, and chemical engineering. The enrichment program includes a series of speakers who bring their insights about the world of scientific research to students during their summer stay on campus.

Hal White, professor of biochemistry who directs the HHMI program and helped organize the enrichment program and symposium, echoed the comments of other faculty, "the quality and quantity of research being done here by undergraduates is truly impressive."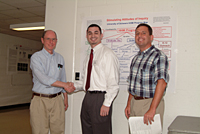 Billy Glass (left), professor of geology, and Louis Rossi (right), assistant professor of mathematical sciences, congratulate senior Matthew Roberts, winner of the symposium prize for best oral presentation.

With a keynote speech by a distinguished scientist, the symposium completes the enrichment program. This year's speaker, Isiah Warner, Boyd Professor and Philip W. West Professor of Analytical and Environmental Chemistry at Louisiana State University, HHMI professor and vice chancellor of LSU's Office of Strategic Initiatives, is a candidate for president-elect of the American Chemical Society.

Warner's talk, "Chiral Drugs: The Difficulty of Dealing with these Jekyll-Hyde Twins in the Pharmaceutical Industry," presented an overview of his work studying molecules that mirror each other but are not asymmetrical. He called it "stereochemistry." The problem Warner is grappling with, he said, is how these differences can be used to solve rather than cause problems.

He used as an example, thalidomide, an anti-nausea medication used in the 1970s that caused deformities in children whose mothers took the drug while they were pregnant. The chiral molecules caused blood vessels in the fetus to become constricted causing abbreviated appendages. But, those molecules behave differently in different contexts, he said. They are investigating the drug's use in causing blood vessels to cancerous cells to constrict thereby killing those cells in nonchild-bearing-age cancer victims.

This year, for the first time, the UD Chapter of Sigma Xi, the scientific research society, awarded a $100 prize and membership in Sigma Xi, for the best oral presentation. Matt Roberts, sponsored by Clifford Robinson, assistant professor of chemistry and biochemistry and the Delaware Biotechnology Institute, won for his
presentation, "The Role of TM5 in Adenosine A2A Receptor Dimerization."

Article by Barbara Garrison
Photos by Greg Drew
E-mail this article
To learn how to subscribe to UDaily, click here.