UD recognizes new grads

Click here for a low-resolution video of Winter Commencement.
Click here for a high-resolution video of Winter Commencement.

Click here for a slide show of Winter Commencement.

4:56 p.m., Jan. 10, 2004--Hundreds of members of the Class of 2003 braved the below-zero temperatures outside to receive their diplomas Saturday, Jan. 10, during Winter Commencement ceremonies, which filled the Bob Carpenter Sports/Convocation Center to near capacity.

Speaking from a stage decorated with more than 100 flags representing the home states and countries of UD students, President David P. Roselle greeted the degree recipients and welcomed their families, friends and sponsors to the ceremony, which also was webcast live on the Internet.

Of the 1,494 students who completed their degree requirements in August and December, more than 500 attended the ceremony.

Upholding a tradition of inviting distinguished UD alumni to speak at Winter Commencement, Christopher J. Christie, a 1984 UD graduate, and United States attorney, District of New Jersey, delivered the Commencement address.

Christie reminded the students and their guests that nearly 20 years ago he was in their shoes participating in the first-ever Winter Commencement at UD. After promising to keep his remarks brief, Christie recalled his academic career at UD.

"I was not in the top 10 percent of my class, and I was not an every-semester member of the dean's list. I did not graduate with honors," Christie said. "In fact, my honor was graduating. Draw your own conclusions."

Besides being involved in helping to start the tradition of Winter Commencement at UD through his role of president of the Delaware Undergraduate Student Congress, Christie reflected on how his UD experiences help to shape the course of his life.

UD, Christie said, was a place where he learned, grew up a bit, met his future wife and developed friendships that have remained for the last two decades.

While saluting the top 10 percent of the Class of 2004, Christie noted that success also is possible to the remaining 90 percent of the graduates.

"I stand here today as a living, breathing bit of encouragement to the other 90 percent of you in the Class of 2004," Christie said. "You can do pretty well, too."

In resisting what he called the "temptation of Commencement speakers to remind graduates of the solemnity of the occasion," Christie recalled the words of Russian author and poet Boris Pasternak, who once described talent as "boldness in the face of a blank sheet of paper."

"You will get two pieces of paper today—the diploma you have earned, and the metaphorical blank sheet of paper that Pasternak referred to," Christie said. "The 20 years of experience I have had since I left Delaware and most especially my last two years of experience as United States attorney tell me to write two words on the top of that page. Write them in bold, capital letters. Italicize them. Underline them. Never forget them. The words are HONESTY and INTEGRITY."

No challenge will be greater, Christie told the graduates, than keeping those two words as touchstones for life.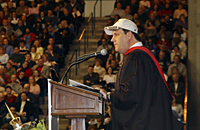 UD alumnus Christopher Christie donned an NCAA Division I-AA championship cap in honor of the Fightin' Blue Hens football team.

"At some moment in your life, you will be confronted with a choice," Christie said. "The choice will be of whether to keep those two words on top of your piece of paper as the blank spots begin to get filled in, or whether to abandon them."

The need to make choices, Christie said, can be brought by friends, employers or fellow employees, or by such personal temptations as greed, ambition and expediency.

"You will have to make a choice and that choice will define who you are as a person," Christie said. "I implore you to stick with the two words we write at the top of that blank piece of paper today—HONESTY and INTEGRITY."

During the course of his daily tasks as United States attorney for the District of New Jersey, Christie said he sees consequences when promising, talented individuals choose to stray from the paths of honesty and integrity, and, in doing so, lose wealth, family and freedom.

"These are people who had a blank sheet of paper of their own at one time in their careers," Christie said. "Unfortunately, these people chose a different path than the one we discussed. Those chose the path of greed, blind ambition, expedience, perjury or selfishness."

There is no such thing as going slightly over the line between right and wrong, between honesty and dishonesty and between integrity and disgrace, Christie said.

"Once you have crossed the line, you have crossed it," Christie said. "That initial foray makes it easier to rationalize deeper and deeper trips into those places where we get lost in a morass of compromised principles and aggressive rationalizations."

Christie recalled the admonition of Theodore Roosevelt and urged the members of the Class of 2003 to go beyond their own self-interests and fight for things of greater value.

"Do it whether it is in the courtroom or the boardroom, the church or the classroom, your town hall or the state house," Christie said. "Use your talents to make our community a better place."

Noting that he was not dreaming of becoming a United States attorney when he sat in the audience as a graduate more than 20 years ago, Christie told UD's newest graduates never to give up on their hopes and their dream.

"The next dream you dream may be the one that takes you to a wonderful place in your life," Christie said. "It may not be the place you had dreamed of today, but it may be wonderful nonetheless."

While pursuing their individual hopes and dreams, Christie urged the graduates to remain true to the principles of honesty and integrity and to remember the fragile gift of trust that their degree from the University of Delaware represents.

"I am glad to be a graduate of this great school, and I am humbled to have been asked to share some thoughts with you on this very special day," Christie said. "Your life from here can be a fabulous ride. Strap in and enjoy it."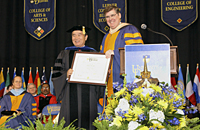 Chairman of the Board of Trustees Howard E. Cosgrove (right) confers an honorary doctor of humane letters degree on Byong Man Ahn, president of the Hankuk University of Foreign Studies in Seoul, Korea, in recognition of his extraordinary commitment to higher education and to his country.
Honorary degrees
Also at the ceremony, Howard E. Cosgrove, chairman of the University's Board of Trustees, conferred an honorary doctor of humane letters degree upon Byong Man Ahn, president of Hankuk University of Foreign Studies in Seoul, Korea.
In celebrating Ahn's illustrious career, Cosgrove called him a "preeminent scholar, esteemed mentor and distinguished author.
"You are witness to the fact that one person can make a significant difference in the lives of many, most particularly in a world constantly faced with the challenges of globalization," Cosgrove told Ahn.
The honorary degree is the highest honor the University bestows and is presented to individuals whose contributions to the quality of life in our state and nation warrant exceptional recognition. The first honorary degree awarded by the University of Delaware was in 1841, and among recipients are Supreme Court Justice Sandra Day O'Connor, president of Ireland Mary McAleese and former President George Bush.
Ahn, who first visited UD as a Fulbright Scholar-in-Residence more than 20 years ago and has continued to foster faculty and student exchange between South Korea and the United States, was honored for his extraordinary commitment to higher education and to his country.

After receiving bachelor's and master's degrees from Seoul National University in Korea, Ahn received a doctorate in political science from the University of Florida, where he received a grant from the Fulbright Commission.
Besides serving as Distinguished Visiting Professor and Asian Scholar-in-Residence at UD, Ahn also has been a visiting professor at Harvard University.
Most of Ahn's career has been devoted to Hankuk University of Foreign Studies, where he has served as professor, dean of student affairs and dean of planning and coordination.
Recognized as one of the foremost educational leaders and scholars in Korea, Ahn also was vice president and dean of the graduate school from 1994-98 and began a second term beginning in 2002.
The author of numerous books and research treatises in English, including the recent "Elites and Political Power in South Korea," he also has published more than 50 research articles in the Korean language.
At the ceremony, Stephanie Janes, AS`04, sang the national anthem, and Andrew Kreckmann, AS`04, and Christie Phillips, AS`04, sang the alma mater. Music for the ceremony was provided for by the Shades of Blue quintet, featuring UD alumni and current students.
Story by Jerry Rhodes
Photos by Kathy Atkinson
E-mail this article
To learn how to subscribe to UDaily, click here.