UDaily is produced by the Office of Public Relations
150 South College Ave.
Newark, DE 19716-2701
(302) 831-2791

UD skater Meissner wins silver at World Junior event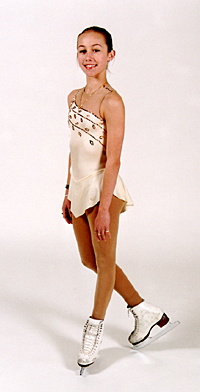 Kimmie Meissner

11:20 a.m., March 8, 2004--Kimmie Meissner, a 14-year-old who trains at the University of Delaware, finished second in the 2004 International Skating Union World Junior Figure Skating Championships that ended Saturday at The Hague in the Netherlands.

Miki Ando of Japan captured the junior ladies gold medal, with Meissner winning silver and fellow American Katy Taylor taking bronze. Ando had won the bronze in 2002 and the silver in 2003 while this was the first junior world championship competition for Meissner and Taylor.

Meissner, the 2004 U.S. junior ladies champion, opened her program to "Pines of Rome" with a triple flip and a triple Lutz-triple toe loop combination. She went on to complete a triple Salchow, loop and two double Axels.

Her marks ranged from 5.1 to 5.7 for technical merit and from 5.2 to 5.7 for presentation, enough to move her up from third place after the short program.

"It's very exciting to be on the podium today," Meissner said. "I came in to be in the top 10 and then I ended up on the podium."

A freshman at Fallston High School in Maryland, Meissner commutes to Newark to train with the internationally recognized University of Delaware Figure Skating Club.

Coached by Pamela Gregory, Meissner won the national junior ladies title during the United States Figure Skating Association championships held in Atlanta in January.
E-mail this article
To learn how to subscribe to UDaily, click here.