UDAILY is produced by the Office of Public Relations
150 South College Ave.
Newark, DE 19716-2701
(302) 831-2791

90 bioscience undergrads exhibit research posters at symposium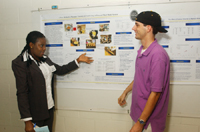 Adaora Ikwuagwu (left), a sophomore chemistry major, explains her method for measuring the effect of flaxseed on viscosity to Rich Von Stetten, an animal and food sciences graduate student.

3:00 p.m., Aug. 20, 2003--A record number of bioscience undergraduates exhibited posters explaining their laboratory research at this year's Summer Undergraduate Research Symposium, Thursday, Aug. 14, in McKinly Laboratory.

Ninety students brought the results of the laboratory experiments they've been working on for the past 10 weeks to McKinly Lab for colleagues, faculty, students and guests to examine and question.
In 2001, the symposium had 42 exhibitors and last year 73.

The symposium, which capped the Summer Undergraduate Enrichment Program. was funded in part by a grant from the Howard Hughes Medical Institute (HHMI).

David Usher, associate professor of biology and assistant director of UD's HHMI program, originally conceived the symposium to simulate a poster competition at a national research meeting, encourage students to enter national competition and prep them if they do.

"It's definitely growing. We have a new Howard Hughes grant allowing us to support more students. Our past success in this area contributed to our getting the new grant and at a time when there is much more competition," HHMI program director Hal White, professor of chemistry and biochemistry, said.

Michael Summers, professor of biochemistry and HHMI investigator at the University of Maryland, Baltimore County (UMBC), began the student presentation session with a talk on his current research involving the use of nuclear magnetic resonance to study the structure and function of proteins, RNA, and macromolecular interactions as retroviruses assemble in infected cells. He's been examining the HIV and leukemia viruses. Summers has 26 undergraduates working for him this summer and a national reputation for encouraging minority students to pursue research careers.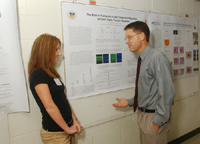 Melissa Edgecombe, AS 2004, confers with Michael Summers, professor of biochemistry at UMBC and a key presenter at the symposium.

After his talk, Summers met with UD students to discuss their work.

VWR Internatonal, a worldwide distributor of scientific equipment, supplies, chemicals and furniture, sponsored the luncheon and vendor displays.

The symposium is open to all bioscience undergraduate researchers who care to exhibit, HHMI Scholars, Peter White Fellows, Biomedical Research Infrastructure Network Scholars, and science and engineering scholars who conduct hands-on research in a laboratory under the supervision of a faculty mentor.

Article by Barbara Garrison
Photos by Duane Perry



[an error occurred while processing this directive]