UD prof researches use of hip-hop in education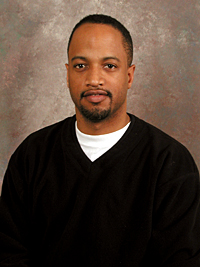 Shuaib Meacham, assistant professor of education

11:52 a.m., Dec. 5, 2003--Shuaib Meacham, assistant professor of education, is spending this year researching how academia can borrow techniques from hip-hop music makers.

He was one of 36 educators chosen from a field of 200 nominees for a National Academy of Education Spencer Postdoctoral Fellowship, which supports outstanding early career scholars researching important questions about education. Mary Ann Huntley, assistant professor of mathematics at UD, also was named a fellow.

Meacham became interested in applying hip-hop techniques to education when he joined the Colorado Hip-Hop Coalition while working as an assistant professor at the University of Colorado at Boulder. The coalition's goal is to use hip-hop to make a positive impact in education. Its slogan is "Hip-hop is the future of education.''

Meacham continued his research when he came to Delaware in 2001. He works with young people who aspire to be hip-hop stars, helping them recognize the writing and language abilities they have. "I see what they're able to do and, as an educational professional, compare them to what young people in general are expected to do. These young people in hip-hop are able to do it. They even exceed the standards.''

Meacham's grant research includes interviewing hip-hop performers about their writing techniques and creating short film clips that can be used to illustrate his points in classrooms.

"I tell people it may seem like it's a fad now, but pretty soon hip-hop will be very commonplace because it really is a total culture. It's not just a music form anymore,'' Meacham said. "If you listen to a lot of the lyrics, it's really about people telling the stories of their lives. Because hip-hop is a norm, at least among young people, in order to teach young people effectively, teachers are going to have to not only understand what hip-hop is all about but also use it effectively in order to teach young people.''

Meacham is collecting data from performers. Then he will analyze the processes hip-hop artists and deejays use and find common elements in their creative approaches.

In hip-hop, "artists'' write the lyrics and "deejays" provide the background beat. Hip-hop deejays mix records together on two turntables to provide fitting backup for the artist's words. Meacham said one popular deejay mixed the speeches of Martin Luther King on one turntable and the speeches of Malcolm X on another.

So what kind of music does a researcher of hip-hop writing methods enjoy? Meacham says he likes all kinds of music, especially jazz. He says his hip-hop literacy project has given him a greater appreciation of hip-hop. His favorite hip-hop performers are Talib Kwali and Mos Def.

A member of the UD faculty since 2001, Meacham earned his bachelor's degree in creative writing and literature and a master's degree in reading and literacy from the University of Michigan. He earned a doctorate in education studies from the University of Illinois.
E-mail this article
To learn how to subscribe to UDaily, click here.