UDaily is produced by the Office of Public Relations
150 South College Ave.
Newark, DE 19716-2701
(302) 831-2791

Global Agenda lectures set for spring 2004

11:07 a.m., Feb. 13, 2004--"Enemies List: Not Always What They Seem," the new series of Global Agenda lectures, is scheduled for 7:30 p.m., Wednesdays, in Mitchell Hall, beginning Feb. 18. The series is free and open to the public.

Lectures by internationally recognized experts in foreign affairs will highlight topics ranging from terrorism to nuclear disarmament.

"Matrix of Terror: New Global Dangers" opens the series on Feb. 18, with intelligence expert David Rothkopf discussing terrorism. Rothkopf founded Intellibridge, an open-source intelligence analysis firm. He was previously managing director of Kisssinger Associates and a former Commerce Department official during the Clinton administration. He has written about terrorism and other global threats for The New York Times, The Washington Post, Financial Times, Foreign Affairs and other publications. He recently wrote about terrorism aimed at disrupting the U.S. election year.

Other lectures in the series include:
"Fire & Brimstone: Weapons of Mass Destruction," March 3, with Robert Gallucci, former State Department official and veteran disarmament expert, addressing the complexities of nuclear disarmament. Gallucci was a senior State Department official for more than two decades. After an appointment to the U.N. Special Commission overseeing the disarmament of Iraq in 1991, he was named to several senior U.S. government posts dealing with nonproliferation and nuclear safety issues during the Clinton administration.
"Old Europe: Trusted Allies or Unfaithful Friends?" March 10, with Jean-David Levitte, France's ambassador to the United States, discussing the shifting dynamics of America's alliance with Europe. Levitte served as senior adviser to French President Jacques Chirac from 1995-2000, when he was appointed to represent France at the United Nations. Since 2002, Levitte has been France's ambassador to the United States. This lecture only will be held in Clayton Hall.
"Snakes in the Sand: The Arab and Muslim Worlds," March 31, with United Nations officer Zahir Jamal and U.S. Ambassador Kenton Keith, examining Arabian and Muslim culture. Jamal is chief of Arab regional programs for U.N. Development Program and principal editor of the annual U.N. report, which first critiqued the Arab world in 2002. Keith recently served as U.S. spokesperson in Islamabad, Pakistan, during the 2002 war in Afghanistan. He previously spent his diplomatic career representing the United States in the Arab world.
"China: Partner or Challenger?" April 14, with William Perry, former U.S. defense secretary, discussing China's relationship to the U.S. Perry was defense secretary during the Clinton administration, serving in top Pentagon posts from 1993-97, as well as from
1977-81. He currently codirects the Preventive Defense Project, a research collaboration of Stanford and Harvard Universities.
A speaker and topic have yet to be determined for April 28.
"North Korea: Last Bastion of Stalinism," May 12, with U.S. Ambassador Wendy Sherman, addressing the friction between the U.S. and North Korea. Sherman was special adviser to President Clinton on North Korea when the two countries reached an agreement to halt North Korea's nuclear weapons program in the mid-1990s. She also advised secretaries of state Albright and Christopher on foreign policy issues.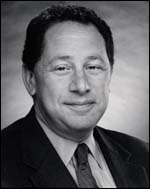 Intelligence expert David Rothkopf

Organized by Ralph Begleiter, UD's Rosenberg Professor of Communication and distinguished journalist in residence, the series is designed to survey potential threats to the United States and explore the complex framework of global relations. The series is cosponsored by the University of Delaware and the World Affairs Council of Wilmington.

For more information on the speakers and their subjects, visit [www.udel.edu/global/agenda/2004/]. For general information on the series, call the Department of Communication at 831-8041.

Article by Becca Hutchinson
E-mail this article
To learn how to subscribe to UDaily, click here.