UDaily is produced by the Office of Public Relations
150 South College Ave.
Newark, DE 19716-2701
(302) 831-2791

Exhibition of rare Inuit art on view through Dec. 14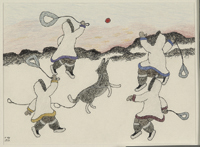 10 a.m., Nov. 20, 2003--"Land of Ice, Hearts of Fire: Inuit Art and Culture," an exhibition of rare Canadian Inuit drawings continues through Dec. 14 in the University Gallery, located on the second floor of Old College.

The exhibition displays a portion of the major gifts of Inuit drawings from the Frederick and Lucy S. Herman Native American Art Collection and closely related artifacts and archival materials from the Mabel and Harley McKeague Collection of Alaskan Inuit Art. Other Inuit artworks, including sculptures, prints, and tapestries recently donated to the University Gallery collection also on view.

Regular exhibition hours are 11 a.m.-4 p.m., Tuesday, Thursday-Friday; 11 a.m.-8 p.m., Wednesday; and 1-4 p.m., Saturday and Sunday.

The exhibition is held in observance of the concluding year of the United Nations' International Decade of the World's Indigenous People (1994-2004); the 50th anniversary of the first Inuit art exhibition in the United States (1953); and the 25th anniversary of the founding of the University Gallery (1978). This interdisciplinary project takes up the United Nations' challenge to strengthen relationships and promote understanding between the world's indigenous people and the international community.



"Land of Ice, Hearts of Fire: Inuit Art and Culture" was made possible with support from the Office of the President; College of Arts and Science; Center for American Material Culture Studies; Center for International Studies; Faculty Senate Committee on Cultural Activities and Public Events; and Museum Studies Program.

This program is partly funded by a grant from the Delaware Humanities Forum, a state program of the National Endowment for the Humanities, and is also made possible, in part, by grants from the National Endowment for the Arts, and the Delaware Division of the Arts, a state agency committed to enhancing and supporting the arts in Delaware. The Delaware Division of the Arts provides technical and financial assistance to artists and art programs and serves as a clearinghouse on the arts.

For more information, call (302) 831-8242 or visit [www.museums.udel.edu].


E-mail this article
To learn how to subscribe to UDaily, click here.

[an error occurred while processing this directive]