UDaily is produced by the Office of Public Relations
150 South College Ave.
Newark, DE 19716-2701
(302) 831-2791

Two UD students awarded Goldwater scholarships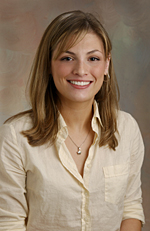 Elizabeth A. Bell, a junior chemical engineering major

2:27 p.m., April 14, 2004--Two University of Delaware students—Elizabeth A. Bell, a junior chemical engineering major, and Liang-I Kang, a sophomore biological sciences major—have been awarded 2004-05 academic year scholarships by the Barry M. Goldwater Scholarship and Excellence in Education Foundation.

The scholarship program, honoring former U.S. Sen. Barry M. Goldwater, is designed to encourage outstanding students to pursue careers in the fields of mathematics, the natural sciences and engineering. The Goldwater Scholarship, the premier undergraduate award of its type in these fields, covers the cost of tuition, fees, books and room and board up to $7,500 per year.

Bell said that the submission process was challenging, particularly the essay she wrote about her research. "It was a lot of work," she said, "but I feel really honored. I was at home over spring break when the envelope came, so it was a nice surprise."

Kang, likewise, was happily surprised by the mail. "I wasn't expecting it," she said. "They tend to take juniors over sophomores. When the packet came, I thought it was for my sister who is applying to colleges. I turned it over—it was the Goldwater!"

Goldwater scholars are selected on the basis of academic merit from a field of 1,113 mathematics, science and engineering students who are nominated by the faculties of colleges and universities nationwide.

Bell and Kang, both of Wilmington, were recommended for the Goldwater respectively by Anne Robinson, associate professor of chemical engineering, and Melinda Duncan, associate professor of biological sciences, with whom they are doing undergraduate research.

"Liang is an exceptionally bright, mature and highly organized young woman," Duncan said. "She shows exceptional commitment to, and enthusiasm for, science and has the maturity to succeed brilliantly."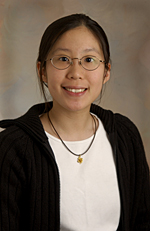 Liang-I Kang, a sophomore biological sciences major

Robinson was equally enthusiastic. "Bell is uniquely qualified for the Goldwater. "I found Elizabeth to be very driven and engaging and interested in all research areas of my laboratory. Elizabeth is one of the most energetic and enthusiastic students I have had. Academically, she is at the top of her class, and will be a top candidate for graduate school."

Robinson and Bell's research focuses on unfolded protein response. Another of Bell's faculty nominators was Christopher Roberts, assistant professor of chemical engineering, who received a Goldwater scholarship himself as a UD undergraduate.

Duncan and Kang are studying the role of junctional adhesion molecule-1 (JAM-1) in the development and function of the eye. JAM-1 normally is found in junctions that seal epithelial cells forming protective organ membranes, in cells that line the inside of blood vessel walls, in platelets that help in blood clotting and in cells of the immune system. Kang said the work is new research into the function of JAM-1 in the eye. "We hypothesize that it may have important developmental and maintenance functions," she said.

Kang also was nominated by George C. Prendergast, senior investigator at the Lankenau Institute for Medical Research, where Kang interned during the summer of 2003.

Past Goldwater scholars have gone on to receive 56 Rhodes scholarships (including six of the 32 awarded in the United States this year) and 66 Marshall Awards (including six of the 40 awarded in the U.S.)

Article by Barbara Garrison and Becca Hutchinson
Photos by Kathy Atkinson
E-mail this article
To learn how to subscribe to UDaily, click here.