UDaily is produced by the Office of Public Relations
150 South College Ave.
Newark, DE 19716-2701
(302) 831-2791

International Film Series spans three continents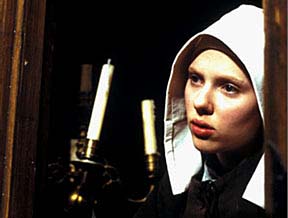 "Girl With a Pearl Earring"

3:21 p.m., March 2, 2004--The University of Delaware's spring International Film Series begins March 7, with screenings at 7:30 p.m., Sundays, (unless otherwise noted), in the Trabant University Center Theatre. Foreign language films are shown with subtitles, and all of the films are free and open to the public.

Scheduled screenings include:

"House of Sand and Fog," March 7, a 2003 American film, stars Jennifer Connelly as a grieving woman fighting to regain her home from a proud man, played by Ben Kingsley, who sees it as his chance to restore his family's fortune. Shohreh Aghdashloo received a best supporting actress nomination for her performance.

"Songs from the Second Floor (Sånger från andra våningen)," March 14, a 2000 comedy from Sweden, offers vignettes in a city approaching the dreaded Y2K, in the tone of Kafka at his funniest and Monty Python at their most profound.

"Elephant," March 28, a 2003 American film by Gus Van Sant, cast with nonactors and largely improvised, was inspired by the Columbine shootings and offers no easy answers.

"America So Beautiful," April 4, a 2001 American film set in 1979 Los Angeles, is about an Iranian immigrant's dream of opening a disco and how it slipped away in the days immediately after the Iranian hostage crisis. The tragic events of 9/11, which followed the film's completion, underscore both its pathos and its relevance.

"The Flower of Evil (La Fleur du mal)," April 11, a 2003 French film and the 50th by Claude Chabrol, is a tale of political corruption, incest, adultery and exploitation in a French county house and displays an entirely unveiled contempt for the children of Vichy.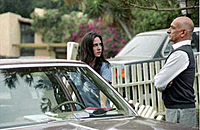 "House of Sand and Fog"

"Casa de los Babys," April 18, a 2003 American film written by John Sayles and featuring Marcia Gay Harden, Mary Steenburgen, Lili Taylor, Maggie Gyllenhaal and Rita Moreno, is about six American women who cool their heels while waiting to adopt children in an unnamed Latin American country.

"Girl With a Pearl Earring," April 25, a 2003 film from the United Kingdom by Eduardo Serra ("The Widow of Saint-Pierre," "The Wings of the Dove"), is the story of the housemaid who could have inspired Vermeer's finest paintings.

"Osama," May 2, a 2003 Afghan film, the first to be shot there since the Taliban came to power in 1996, follows the attempts of a young girl who tries to pass for a boy named Osama in order to support her family, but she is found out.

Sponsored by the Faculty Senate Committee on Cultural Activities and Public Events, the Office of the Provost, and the English Department's Film Program, the series is cosponsored by the art history department, the Center for American Material Culture Studies and the Women's Studies Interdisciplinary Program.

For more information, call 831-4066 (mailbox 3), or visit [www.english.udel.edu/ifs/].

Article by Jerry Rhodes
E-mail this article
To learn how to subscribe to UDaily, click here.