UDaily is produced by the Office of Public Relations
150 South College Ave.
Newark, DE 19716-2701
(302) 831-2791

Typography exhibition set for March 1-12
2:24 p.m., Feb. 26, 2004--Winning entries from the annual Type Directors Club (TDC) competition will be on exhibit from Monday, March 1, through Friday, March 12, in Recitation Hall Gallery in Old College.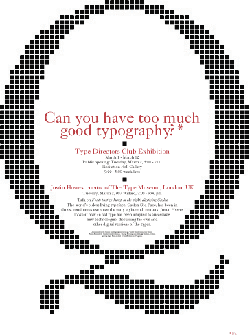 The show, which is TDC's 49th international open competition, includes calligraphy, hand-lettering and artwork using typography in unusual ways. It highlights the work of design professionals, typographic designers and typophiles from around the world.
An opening reception of the exhibition will be held from 5-7 p.m., Tuesday, March 2, at the gallery. After the reception, from 7-9 p.m., Justin Howes, curator of The Type Museum in London, will lead an informal discussion on typography in 007 Willard Hall. The show, opening reception and lecture are all free and open to the public.
The exhibition and lecture are sponsored by UD's Visual Communications Group, the Center for International Study and the Center for Material Culture Studies.
TDC was founded in 1946 to preserve traditional typefaces and promote new font and typography innovation in the rapidly growing publishing industry.
The Recitation Hall Gallery is located on the second floor of Old College. Gallery hours are 9 a.m.-5 p.m., Monday - Friday. The gallery is closed weekends.
For more information, call Raymond Nichols, professor of arts, at 831-1198.
Article by Becca Hutchinson
E-mail this article
To learn how to subscribe to UDaily, click here.