UDaily is produced by the Office of Public Relations
150 South College Ave.
Newark, DE 19716-2701
(302) 831-2791

Thousands salute UD's 155th spring Commencement

4:23 p.m., May 29, 2004--Prolonged applause from a crowd of 22,000 filled the breezy spring air in Delaware Stadium during the University of Delaware's 155th Commencement Saturday, May 29.

Thousands of family members and friends streamed into the stadium as early as 7 a.m., two hours before the formal event began with "Pomp and Circumstance" as members of the Class of 2004 entered the stadium to cheers, waves and bright signs that sparkled in the sun. "Lauren, love you," read one.

The soon-to-be alumni were followed by representatives of the classes of the 1930s through 2003. The procession included 42 parents and two grandparents of graduating seniors and 10 members of the 50th reunion class of 1954.

Leading the procession of alumni delegates were Patricia Cordes and Charles Collins-Chase, recipients of the 2004 Alumni Association's Warner and Taylor awards, which recognize the outstanding senior woman and man.

The ceremony opened with a moment of silence during the presentation of the colors by members of the University of Delaware Air Force and Army ROTC. UD President David P. Roselle also paid tribute to the 48 students and five employees whose Reserve or National Guard units have been called to active military duty in Iraq.

Colorful flags of the home 50 states and 130 countries represented by the student body were displayed on the field, and graduates who participated in study abroad during their undergraduate studies wore sashes that featured the colors of the flags of the countries where they studied.

Conferred were 192 doctoral, 718 master's, 10 associate's and 3,649 bachelor's degrees earned during the past academic year. Kate Stark, of Wilmington, and Stefanie Perri, of Haverford, Pa., were recognized for achieving the highest grade point average—4.0—in full-time study at UD.

"Among those of you graduating today is a wealth of diversity and interest greater than any class before you," Roselle said. "There is, in fact, a common bond for all of you graduating today as we celebrate the 261st year of this institution's existence. The first class of 1743 was a very special one, indeed, having three members of the class who were signers of the Declaration of Independence among its students. Your class, by all standards, continues that legacy of achievement."

The graduates, between the ages of 20 and 65, included five sets of twins and one set of triplets.

"Today is a doubly happy day for the Breault, Gordon, Herrmann, Santoro, and Schenkel families, who have twins graduating," Roselle said. "And today is a triply happy day for the Muchnick family, whose triplets, Jordan, Seth and Lauren, are graduating."

Kathy Washall, whose daughter, Megan Washall, earned a degree in finance, said the good weather made it a special day for her family.

"We are really glad the weather is nice because when our son graduated a few years ago, it was pouring rain and we opted out of the big one," Washall, of Newark, said.

Cristobal Pacheco, whose family emigrated from Chile eight years ago and moved to Newark, said the ceremony was a proud moment for his mother, Scarlet Galvez, and the whole family.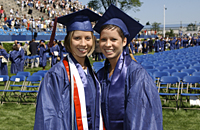 Trisha and Jessica Breault made up one of five sets of twins graduating together.

"It's kind of bittersweet because my dad is away on business and he could not be here," Pacheco, whose elder sister is a UD alumna and whose younger sister is a women studies and Spanish senior, said. "It's always good to have family and friends. It's something you always keep with you."

For some students, the celebration extended beyond academics.

"It's a new beginning for my career," Wen Wu Cui, of Wilmington, who earned a doctorate in biological sciences, said. "My wife had a baby girl yesterday. I got only a few hours' sleep. It is very good things coming together."

Stephanie Lucyk from Conyngham, Pa., celebrated her graduation with two grandmothers, Louise King and Lucy Lucyk, her father, Dan Lucyk, sister Heather, and an aunt, Pauline Gargasz.

"She's my little girl," King said of Lucyk. "I brought her home when she only weighed four pounds."

Kevin Tressler from Philadelphia said his four years at UD went too fast.

"It's unbelievable," Tressler said. "I feel like I just got here and I'm leaving. "When you get here, you can't imagine ever being finished. Now you are leaving and you have your cap on and you can't believe it's over."

U.S. Sen. Joseph R. Biden Jr., who delivered the Commencement address, received an honorary degree from Howard Cosgrove, chairman of UD's Board of Trustees.

Alli Garwood and Amy Bouza, representatives of the senior class, announced that they collected more than $25,600 in gifts and pledges to help replace the century-old linden trees in front of Old College on the Newark campus that were destroyed by Hurricane Isabel last fall.

"All of you bring your own set of identifying characteristics and experiences to this celebration today," Roselle said. "All of you set forth today on a path even more remarkable than the one that brought you here. All of you will meet challenges. I hope you will face them with the tools you have acquired at the University of Delaware and make better lives for yourselves and for the people of our world."

Article by Martin Mbugua

Photos by Kathy Atkinson, Greg Drew, Duane Perry and Kevin Quinlan
E-mail this article
To learn how to subscribe to UDaily, click here.