UDAILY is produced by the Office of Public Relations
150 South College Ave.
Newark, DE 19716-2701
(302) 831-2791

College-level chemistry program whets high school students' taste for laboratory research
12:05 p.m., Aug. 15, 2003--Five high school students and two teachers from Delaware and Pennsylvania have spent much of the summer on campus participating in UD's Summer Analytical Chemistry Program (SACP).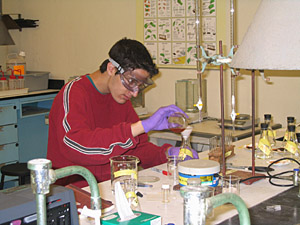 Brian Rosen, Charter School of Wilmington, is one of five high school students who studied analytical chemistry at UD this summer. Photo by Thomas Beebe
The program for gifted students who have completed advanced placement (AP) chemistry is in its second year at UD and is designed to encourage exceptional students to build careers in the sciences. These students learn college-level chemistry and participate in laboratory research.

Thomas P. Beebe Jr., professor of chemistry and biochemistry, directs the program sponsored by the Howard Hughes Medical Institute as part of the UD's "Stimulating Attitudes of Inquiry" program, directed by Hal White, professor of chemistry and biochemistry at UD.

For six weeks, SACP students take intensive college-level analytical chemistry courses with daily laboratory exercises. They also select, design and carry out a special research project, consisting of a preproposal, proposal and final report.

The high school teachers function as lecturers, teaching assistants, mentors, and motivational advisers, all the while gaining exposure to new ideas and methods that they can take back to their own high schools.

Wanda Lentz, who teaches at Concord High School in Wilmington, came back for her second year.

"This is an excellent program. It has been a professionally valuable and personally rewarding experience that I would recommend for any AP chemistry teacher interested in furthering his or her career and gaining new insights into analytical chemistry," she said.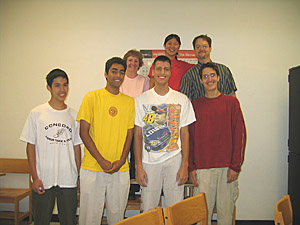 Participants in UD's 2003 Howard Hughes Medical Institute Summer Analytical Chemistry Scholar Program include (from left): Richard Lamb, Concord High School; Arjun Varma, Charter School of Wilmington; Mary McClory, teacher, Padua Academy; Ed Kerstetter, Interboro High School, Prospect Park, Pa.; Anne Lee, Charter School of Wilmington; Thomas Beebe, UD professor of chemistry and biochemistry; and Brian Rosen, Charter School of Wilmington. Photo by Wanda Lentz
Lentz was the 2002 recipient of the Delaware Chemistry Teacher of the Year Award from the Delaware chapter of the American Chemical Society.

Mary McClory, a teacher at Padua Academy in Wilmington, was new to the program this year.

Beebe will be recruiting for next summer starting in October. Students and teachers are encouraged to apply. More details about the program can be found at [www.udel.edu/chem/beebe/summer.htm], or by calling Beebe at 831-1888.

Article by Barbara Garrison


[an error occurred while processing this directive]