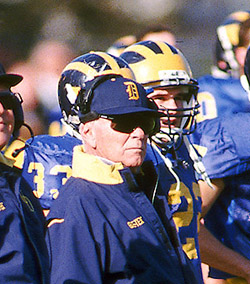 Delaware plays Hofstra at round one of the NCAA I AA playoff game in 1997.
Photo by Bill Wood.
12:00 p.m., April 25, 2003--Harold R. "Tubby" Raymond, the highly successful University of Delaware football head coach who retired after the 2001 season with 300 wins and three national championships, has been selected to the College Football Hall of Fame.

Raymond was one of nine individuals selected to the divisional hall of fame, which includes coaches and players from NCAA Divisions I-AA, II and III and the National Association of Intercollegiate Athletics (NAIA).

The National Football Foundation and the College Hall of Fame announced the selections during a press conference Thursday, April 24, in Morristown, N.J.

Raymond, who was head coach of the Fightin' Blue Hens for 36 seasons, will be inducted during a ceremony scheduled Aug. 8-9 in South Bend, Ind.

Raymond will be joined by fellow coaches Roy Kidd of Eastern Kentucky University, who retired following the 2002 season, and Marino Casem, who coached at Alabama State, Alcorn State and Southern universities over 26 seasons until 1992.

In addition to the three coaches, six players were selected for inclusion in the Hall of Fame. They are quarterback Brad Calip of East Central University of Oklahoma (1981-84), tight end Dwayne Nix of Texas A&M University-Kingsville (1965-68), running back Scott Reppert of Lawrence University of Wisconsin (1979-82), end Willie Richardson of Jackson State University (1959-62), tackle Calvin Roberts of Gustavus Adolphus College of Minnesota (1949-52) and running back Ben Stevenson of Tuskegee University (1924-30).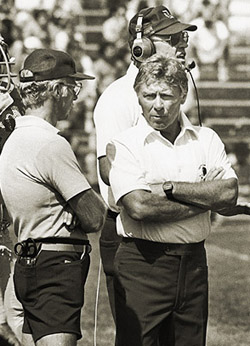 At the 1980 West Chester game, Raymond talks with trainer Roy Rylander.
Photo by Eric Crossan.

Raymond becomes the third straight UD football head coach to be named to the Hall of Fame, joining his direct predecessors Dave Nelson (1952-1965) and Bill Murray (1940-51).

Raymond also is a member of the state of Delaware Hall of Fame and University of Delaware Athletics Hall of Fame.

Raymond, 76, enjoyed a career that spanned decades in the coaching profession. Under his direction, the Blue Hens compiled a 300-119-3 record, making him one of only nine coaches in the history of college football to reach 300 victories and just the fourth to do so at one school.

He left coaching ranked third in victories behind only Eddie Robinson of Grambling and Kidd at Eastern Kentucky in NCAA Division I-AA.

Raymond has accounted for more than 50 percent of Delaware's 581 all-time victories in UD's 111 seasons of intercollegiate football competition.

Raymond's accomplishments are staggering. The list includes:
Three national titles, in 1971, 1972 and 1979;


14 Lambert Cups;


Five appearances in a seven-year span in the NCAA Division II playoffs;


11 NCAA Division I-AA tournament appearances in 1981, 1982, 1986, 1988, 1991, 1992, 1993, 1995, 1996,1997 and 2000;


Six Atlantic 10 Conference (formerly Yankee Conference) titles in 1986, 1988, 1991, 1992, 1995 and 2000;


Four Boardwalk Bowl victories;


Nine ECAC Team of the Year Awards;


Consistent ranking among the Top 20 college division teams in the nation for the past decade; and


A host of All-Americans and professional football draft selections, including reigning National Football League MVP Rich Gannon, quarterback of the Oakland Raiders.
Thirty-one of Raymond's 36 teams had had winning records, including a streak of 13 straight winning seasons. Only 13 times did a Raymond-coached squad have fewer than eight victories.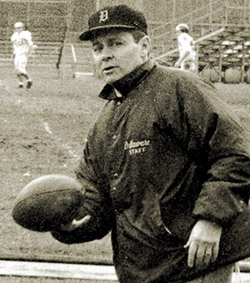 The team success brought Raymond numerous honors, including the distinction of being just one of two college division coaches to win consecutive American Football Coaches Association Coach of the Year awards. Raymond was cited in 1971 and 1972, when he coached Delaware to back-to-back national titles. The only other coach to match that feat was Wittenberg's Bill Edwards, in 1962 and 1963.

In 1979, after winning the NCAA Division II national championship, ABC Sports and Chevrolet named Raymond the NCAA Division II Coach of the Year.

On the district level, Raymond was named AFCA College Division District II (now NCAA I-AA Region I) Coach of the Year seven times, including the 1995 season, and the New York Football Writers Association ECAC Division I-AA Coach of the Year twice, including the 1992 campaign.

Raymond came to Delaware from the University of Maine in 1954 and served as Dave Nelson's backfield coach for 12 years before Nelson, a member of the College Football Hall of Fame who died in 1991, resigned to devote full-time to his athletic director duties.

Called "Tubby" by his childhood playmates, Raymond lost the weight but not the nickname. A native of Flint, Mich., and a 1950 graduate of the University of Michigan, Raymond played football and baseball for the Wolverines and captained the 1949 baseball team.

He played minor league professional baseball for two years and was head football coach at University High School in Ann Arbor, Mich., before heading to the University of Maine.

He served as Blue Hen baseball coach for nine years and compiled the second best coaching record in the history of the sport at UD with a mark of 141-56. Six of Raymond's nine baseball teams qualified for the NCAA District II playoffs.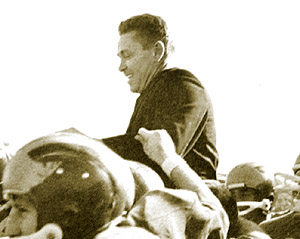 Raymond's first win on Sept. 24, 1966. Photo by Bill Snead.
He left the baseball post–giving way to his assistant, recently retired Bob Hannah–before the 1965 season to become a full-time football assistant.

Raymond's main outside interests include golf and painting. His acrylic paintings of Blue Hen players brought him national media attention, including features in Sports Illustrated and on ABC's "Good Morning America," NBC's "Nightly News,' CNN, and Fox Sports "The Slant." He painted a portrait of a senior member of the team each week during the season for most of his career at Delaware and continued the tradition in 2002 after his retirement.

In addition to his football duties at Delaware, Raymond is a past president of the American Football Coaches Association and is currently chairman of the AFCA Rules Committee.