HIGHLIGHTS

UDAILY is produced by
the Office of Public Relations
150 South College Ave.
Newark, DE 19716-2701
(302) 831-2791
Delaware Clean Marina program launched
5:05 p.m., June 26, 2003--The Delaware Clean Marina Program was officially launched June 16 in a ceremony at Indian River Marina in Delaware Seashore State Park. The new program's goal is to enlist marina operators and boaters in reducing pollution in Delaware's waterways. Qualified marinas will be recognized for their pollution-control efforts with the "Delaware Clean Marina" certification.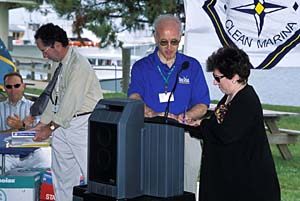 Jo Ann Barnard (right), operator of Delaware City Marina, signs the Delaware Clean Marina Pledge as Sea Grant's Dave Chapman looks on. Chapman is coordinator of Delaware's new Clean Marina Program.

UD's Sea Grant College Program coordinates the voluntary program with support from the state Department of Natural Resources and Environmental Control (DNREC) and the Center for the Inland Bays.

The kick-off ceremony featured formal remarks by Bruce Richards, executive director of the Center for the Inland Bays; Jim Falk, director of the UD Sea Grant Marine Advisory Service; and John Hughes, secretary of DNREC. Afterward, several marina operators in the state signed the clean marina pledge, the first step in achieving clean marina certification at their facilities.

The marina operators included Jim Beard of Rehoboth Bay Marina, Carla Timmons of Pier Point Marina, Marvin Kahl of Cedar Creek Marina, Janice Trala of Summit North Marina, Jo Ann Barnard of Delaware City Marina and Doug Long of Indian River Marina in Delaware Seashore State Park.

The pledge signing was followed by a tour of eco-friendly practices that are in place at Indian River Marina, ranging from a pump-out station for boat sewage to a facility for recycling used oil.

"There are approximately 100 marinas and over 46,000 registered boaters in Delaware," said David Chapman, marine transportation specialist for the UD Sea Grant Marine Advisory Service and coordinator of the Delaware Clean Marina Program. "This program is designed to assist marina, boatyard and yacht club operators and dealers in protecting the resources that provide their livelihood—clean water and fresh air."

During the past year, Chapman worked with an advisory committee of marina operators and associated groups and agencies to develop an extensive guidebook and checklist, modeled largely after Maryland's successful program, that can be used by Delaware marina owners and operators to implement sound environmental practices.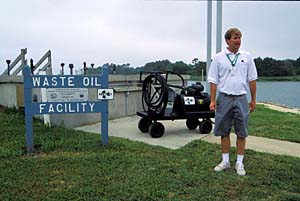 Doug Long, who manages Indian River Marina in Delaware Seashore State Park, provided a tour of eco-friendly practices in place at the marina, including this facility for recycling used oil.

After taking the Clean Marina Pledge, marina operators have a year to work through the checklist and implement necessary measures to achieve a passing score. After completing a self-assessment, operators can call on mentors—other marina operators or advisory committee members—or the Clean Marina Office at Delaware Sea Grant for guidance.

Once a marina operator is satisfied that conditions of the checklist are met, a visit with the Delaware Clean Marina Advisory Committee will be scheduled. Upon certification, a marina can use the "Delaware Clean Marina" logo and flag in its advertising.

According to Chapman, the clean marina program is becoming more recognized by the public. Delaware's new program will now join programs that are in place in Maryland, Virginia and the District of Columbia. A pilot program is under way in New Jersey.

For more information, please contact David Chapman at (302) 645-4268 or [dchapman@udel.edu].

University of Delaware photos