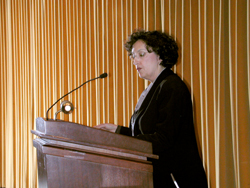 Marcelle Wahba, U.S. ambassador to the United Arab Emirates, offered a glimpse into the Arab world as she recounted her experiences as a foreign service officer Wednesday evening, Feb. 27, at Clayton Hall.
This was the second lecture in the semester-long Global Agenda series, focusing on "Understanding International Terrorism Today."
Wahba was first appointed to her post in the United Arab Emirates on Oct. 4, 2001. Before her current assignment, Wahba was stationed in Cairo, Egypt and she also has lived and worked in Jordan and Cyprus.
Wahba, whose lecture was titled "The Arab Street," discussed her experiences living and working in the Middle East. She said the region has been stereotyped as homogeneous of culture, thought and religion, but, she added, that is not true.
"There are many different opinions," she said. "One section is very different from another."
Wahba also discussed relations between the United States and the region, saying the Arab people have differences with the foreign policy of the United States and not with the individual citizens who became innocent victims of the Sept. 11 attacks.
"Sept. 11 reminded us how vulnerable a superpower can be," Wahba said.
She told the audience that immediately after the terrorist attacks, many Arabs came to see her, hoping that she would accept their condolences and relay them back to the American people. Some Arabs, saddened by the rash act, even denounced the perpetrator, Osama bin Laden.
The lecture was followed by a question-and-answer period in which topics such as government and media relations, as well as education in the Arab world, were discussed.
The lecture series continues at 7:30 p.m., Wednesday, March 13, in Room 128 Clayton Hall. Martin Kramer, editor of the Middle East Quarterly and former director of the Dayan Institute, will be the featured speaker.
By popular demand, online streaming video of the Global Agenda series is now available.
Those who missed Ambassador Wahba's presentation on "The Arab Street" may now view the video via the Global Agenda web site at www.udel.edu/global.
Web videos of the Global Agenda series are made possible by the University's "America and the Global Community" initiative and the College of Arts and Science.
The videos will not be available live but will be posted several days following the various lectures.

Story by Erin O'Leary
Photo by Duane Perry
Feb. 28, 2002