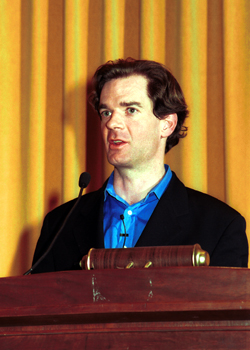 Peter Bergen, former CNN correspondent and author of the bestseller "A Holy War Inc.: Inside the Secret World of Osama bin Laden," shared his expertise on terrorism with a standing-room-only crowd at Clayton Hall on Wednesday evening, Feb. 20.
The presentation was part of the Global Agenda lecture series, which has as its theme this year "Understanding International Terrorism Today."
Bergen, the former global terrorism analyst at CNN, has researched terrorist groups such as the Al Qaeda organization since 1983, and he had a face-to-face meeting with bin Laden in 1997.
During Wednesday's talk, he recounted his experiences with the Al Qaeda and its host, the Taliban, as he was driven deep into the mountainous terrain of Afghanistan for his meeting with bin Laden.
"Around midnight, bin Laden appeared out of the darkness," he said, recalling the initial meeting.
Bergen reflected on the long authorization process to be granted an interview with bin Laden. "The whole process took months," he said.
Bergen joked about the less than ideal conditions for television journalists, as the Taliban had decided to ban all television cameras shortly before he and his crew arrived for the interview.
In spite of their occupation and purpose for entering the country, Bergen said he was relieved that they did not experience any resistance from the border patrols. "We just crossed the border. They thought we were aid workers," he said.
Bergen suggested three main reasons for the anti-American sentiment among bin Laden and his followers: the continued presence of troops in Saudi Arabia, the ongoing opposition of Iraq and Iran and the persistent support of Israel.
He also stressed that al Qaeda does not want to just kill innocent American civilians but has grander designs against the United States government and the American way of life.
"(Bin Laden) does not care what we do in our backyard," Bergen said. "He cares what we do in his."
He suggested a greater emphasis on building intelligence capabilities, linking the efforts of the FBI and CIA, and hiring more agents who speak Arabic to improve the preparedness of the United States government in heading off future attacks.
The speech was followed by a 30-minute question-and-answer session. When asked about the whereabouts of bin Laden, Bergen said, "I believe that he is alive in Afghanistan."
The Global Agenda lecture series continues next Wednesday, Feb. 27, in Clayton Hall. Marcelle Wahba, ambassador to the United Arab Emirates, will speak on "The Arab Street."
Article by Erin O'Leary

Photo by Duane Perry
Feb. 25, 2002