11:55 a.m., Nov. 15, 2002--Comedian Lewis Black got a standing ovation at the Bob Carpenter Center Tuesday, Nov. 12, as he poked fun at Democrats, Republicans, President George W. Bush, Al Gore and YoUDee.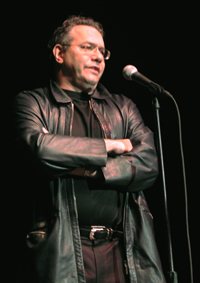 Lewis Black on homeland security: "Come up with some other name. It sounds like a locksmith company.''
The always-angry regular on Comedy Central's "The Daily Show'' grew up in nearby Silver Spring, Md., but it was the first time he'd ever spent more than a few hours in Delaware.
It was the also the first time his parents, Jeannette and Sam Black, had seen him perform on a college campus. His mom said she wondered if he'd edit his comedy club material for the student audience. He didn't.
"The Blue Hen, is that an indigenous bird?'' he asked, riffing into the unquotable.
His quotable lines zigzagged from candy corn to airport security.
On the 2000 election: "They were the two worst candidates nominated at the same time in my lifetime. I believe the way voters did it was whomever you saw last you voted for the other guy. I would rather watch two broken appliances hum at each other.''
On being told belatedly that the smallpox vaccine you received as kid has worn off: "I think we should have been told that a little earlier than now. Because every day I wake up and I think, 'It's not great, but at least I can't get smallpox.'''
On the possibility of war with Iraq: "They say he's got weapons of mass destruction… I need proof. I need a picture. I don't even care if the picture is real.''
On Bush: "I have to say I'm always amazed that George W. Bush—junior—was an idiot until Sept. 11. If you don't realize that's a fact, I'll come back to your campus and I'll bring you the videotapes. I am by no means saying Al Gore should have been elected president. That's terrifying to think about. I saw him speak twice, and my teeth tried to reach around and eat my brain.''
On homeland security: "Come up with some other name. It sounds like a locksmith company.''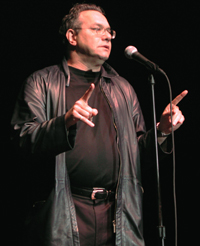 Lewis Black on political correctness: "There is no such thing as a politically correct joke. That's because a politically correct joke isn't funny.''
On the anti-evolution movement: "I think evolution is important because it's a small corner of a large tapestry that I like to call—REALITY. And the thing is—I'm right. I don't have to argue this point any more. Fossils. Fossils. Fossils. I win.''
On Iraqi humor: "This is a group of people who have lived in the desert for a hundred years and never even heard a knock-knock joke. I guess that's the price you pay for living in tents.''
The loudest cheer came from pockets of the audience when Black told the audience, "There is no such thing as a politically correct joke. That's because a politically correct joke isn't funny.''
His parting advice was no joke: "If I have any advice to give you, it's just enjoy your time here in school,'' he said. "Enjoy it. This is it. It doesn't get any better. Even when you get a really great job. This is it. This is when you're allowed the time, and the reason you're allowed the time is to pursue your dreams. The only other thing I think is equivalent is when you're 3 at Disney World and they push you around in a little whale.''
Black, a University of North Carolina drama grad who earned a master of fine arts degree at Yale, said he planned to write plays and teach theatre, but he segued into stand up at Chapel Hill.
"I started doing stand up at the end of college in a bar near campus because I got paid. I used the money to write,'' said Black, who has written several plays and saw one of them turned into a television production called "The Deal,'' on the Sundance Channel.
Black, who is single, lives in New York, but his performance schedule takes him around the country.
He said four or five writers work with him on his "Back in Black'' segments broadcast Wednesday nights on Comedy Central's "Daily Show."
To students who want to enter highly competitive fields like stand up comedy or film direction, Black advised: "Pick what it is you want to do and do it. Don't let people tell you what you want to do.
"Yeah, your chances are minuscule, but go ahead and do it," he said. "Better to do it now than to wonder about it for the rest of your life.''
Article by Kathy Canavan
Photos by Duane Perry