Professor examines issues of free speech rights, media accountability
4:15 p.m., Nov. 15, 2002--You may not like the music or its message; you might find the movie disgusting or dangerous; you may even want the book banned. Nevertheless, in nearly all court cases involving free speech and First Amendment concerns, courts side with the media.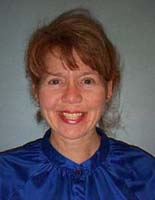 Juliet Dee
According to the First Amendment, "Congress shall make no law… abridging the freedom of speech, or of the press…."
The truth is, most cases never make it to trial. Those that do usually involve plaintiffs seeking recovery of damages for content-related injuries. These cases were addressed Nov. 6 by Juliet Dee, associate professor of communication at UD, during a talk in the Class of 1941 Lecture Room of the Morris Library.
Dee's presentation, "Heavy Metal, School Shootings and Natural Born Killers: Media Liability and the First Amendment," is part of the 2002-03 Scholar in the Library Series, sponsored by the Professional Development Committee of the UD Library Assembly of Professional Staff.
Dee cited several examples of the court's tradition of protecting First Amendment rights, including Olivia N. (Niemi) v. NBC. In the 1974 case, the plaintiffs tried unsuccessfully to prove that a TV network broadcast incited a group of minors to attack a young girl sexually.
When arrested, Niemi's attackers told police that they got the idea while watching "Born Innocent," an NBC show where a young girl in a juvenile detention center is sexually assaulted by four older girls.
The judge, after viewing the movie, found that it did not advocate or encourage violent or depraved acts and thus did not constitute incitement.
"These cases usually involve someone getting sued by another party, usually parents, over a child being hurt or killed because somebody else said or did something in a movie," Dee said. "Those charged with the actual crime usually say that they got the idea by watching a television program or a movie."
During the late 1980s, a pair of well-publicized cases involved claims filed by the parents of children who had injured or killed themselves after listening to heavy metal music.
In 1988, John McCollum, a 19-year old, shot himself in his bedroom after listening to songs of John "Ozzy" Osbourne, from "Blizzard of Oz," and "Diary of a Madman." The plaintiffs claimed that one of the songs, "Suicide Solution," preached that suicide is the only way to solve one's problems. They also alleged negligence and incitement to suicide.
Once again, the court said no.
In its ruling, the court noted that entertainment, like political and ideological speech, is subject to First Amendment protection, Dee said.
A 1989 case, Vance v. Judas Priest, dealt with the issue of actions that the plaintiffs claimed were the result of subliminal messages contained on the group's "Stained Class" album.
Raymond Belknap, 18, and James Vance, 20, had barricaded themselves in Vance's bedroom, where they sat for five hours, drinking beer, smoking pot and listening to the group's music. When Vance's mother knocked on the bedroom door, the boys jumped out the window and went to a nearby church playground, where they shot themselves.
Belknap died immediately, but Vance survived after blowing most of his face off. A wrongful death action followed.
When the case went to trial, the judge ruled in favor of Judas Priest, noting that the plaintiffs failed to prove that the group had intentionally placed subliminal messages on the album or that the messages were indeed the cause of the suicide and attempted suicide. The judge did rule, however, that while song lyrics are protected by the First Amendment, subliminal messages are not.
"The way the Constitution is written and interpreted, you can't issue prior restraint of speech," Dee said. "However, you can punish it after the fact, and many lawsuits now attempt to do this.'
Examples of such cases include Norwood v. Soldier of Fortune Magazine, and lawsuits filed against Time Warner over the movie "Basketball Diaries" and several video games.
The lawsuit against Time Warner, filed by the family of teacher Dave Sanders, who was fatally shot during the 1999 Columbine High School massacre, said that the killers, Eric Harris and Dylan Klebold, were influenced by the film, in which the lead character guns down his teacher and some classmates in cold blood. Twelve students and one teacher, Sanders, were killed. U.S. District Judge Lewis Babcock dismissed the lawsuit, ruling that the two gunmen were the ones responsible for Sander's death, Dee said.
In Norwood v. Soldier of Fortune Magazine, plaintiff Norman Douglas Norwood sought damages against the magazine and several individual defendants because of injuries suffered by him allegedly as the result of several attempts to injure or murder him. Norwood, who proved too tough to kill, said the attempts against him were the result of an ad for a hit man that ran in the magazine. In ruling for Norwood, the court said that the magazine did not have an absolute First Amendment privilege from liability for injuries to the plaintiff.
Although most cases with First Amendment issues do not make it to court, Dee said that the fact that they are being filed is significant.
"The fact that these suits exits at all says that people are angry at the increasing level of public violence," Dee said. "People are upset that, because of First Amendment protection, Congress cannot pass laws for recovery of damages for victims whose injuries are the result of influence by the media."
Dee, who previously served as director of the Legal Studies Program at UD, has been a member of the faculty since 1984, coming from the University of California, at Santa Barbara.
The coauthor of "Mass Communication Law in a Nutshell" (1994), and (1998), Dee has written book and film reviews as well as numerous refereed articles. Books to which she has contributed chapters include "News Coverage of Abortion between Roe and Webster: Public Opinion and Real-World Events" and "When Classified Ads Lead to Murder: Hitmen, Soldier of Fortune, and the Question of Commercial Speech."
A graduate of Princeton University, where she received a bachelor's with honors in English and American Civilization, Dee earned a master's in radio and television and a minor in theatre from Northwestern University and a Ph. D. in radio, television and film from Temple University.
Article by Jerry Rhodes