1:55 p.m., Oct. 29, 2002--There's been an invasion of trick or treaters and grown-up masqueraders at Alison Hall. Clifford, the Big Red Dog, and Pinocchio mingle with an elegant Morticia Addams in a sweeping black lace gown, accompanied by Gomez in a sophisticated brocade jacket with velvet lapels and complimentary vest. A tiny bride, ready to march down the aisle in a gown trimmed lavishly with lace and pearls with a matching headpiece, and a demure Little Bo Peep, complete with pantalets and crook, offer a contrast to a two-headed man from Mars and oversized Tweedle Dee and Tweedle Dum.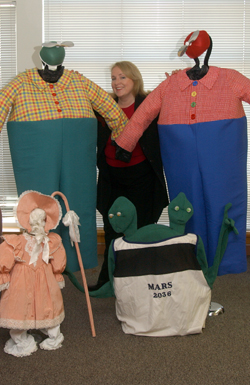 Colleen Moretz holds Tweedle Dee and Tweedle Dum costumes.
The costumes, on display now through Halloween in the display cases on the second and third floors of Alison Hall West, are the work of two adjunct faculty in consumer studies, Jane Singer and Colleen Moretz, who teach apparel courses.
"I have known both women since they were my students at UD, and we have kept in touch. They are talented and creative and wonderful teachers, and when we heard about the costumes they have made over the years for family and friends, we asked if we could display them in Alison Hall," Karen Schaeffer, associate professor in consumer studies, said.
Singer said she has enjoyed sewing since she was 7 years old when she started outfitting her Barbie dolls. "Everything was fair game to me. I cut up the furry lining of my father's coat to make fur coats for my Barbies and really got in trouble. I traded my homemade costumes for the real thing with my friends until our parents found out and I had to return them," she recalled.
While attending Padua Academy in Wilmington, Singer reluctantly took a sewing course ("I equated it with remedial math," she said) but became hooked. After graduating from UD in 1982, she came full circle and went back to designing doll costumes, becoming a designer for Shader's China Doll, then moving to the Franklin Mint, where she also designed doll clothes. She has been teaching at UD for about three years.
Singer has designed and made Halloween costumes for her two boys, depending on their ages and interests for several years. One year they were Pinocchio and Figaro, his cat. Now 10 and 11, one wants to be Buzz Lightyear and the other a monster with several heads. The Addams family costumes were for her brother and his wife, but Singer herself does not dress up for Halloween.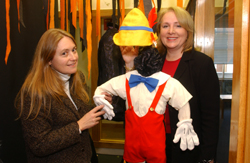 Pinocchio and other costumes designed by Jane Singer (left) and Colleen Moretz, two adjunct faculty members in consumer studies, are on display in Alison Hall West.
Moretz's first efforts in fashion design were for Barbie as well. "I made them clothes from paper or remnants and opened up a boutique for my two younger sisters, who used play money to buy out the entire stock," Moretz recalled. Through Girl Scouts and Girls Club, she continued with fashion design and sewing.
"We had a paper fashion show in Girls Club and I made outfits out of bright paper tablecloths," she said. At St. Mark's High School, when students were required to make one garment for sewing class, Moretz made 20—Easter outfits for her sisters and clothes for herself—"so the teacher had to give me an A," she said.
When Moretz came to UD, she learned about the major in consumer studies with courses in apparel design and found her career. A 1979 graduate, she started out as an assistant buyer, but launched her own business, Colleen Couture. The first major job she landed was for Du Pont, when she designed clothes for models for automotive finishes posters.
She did a lot of fashion design work for Michael Christopher, the Wilmington-based hair designer, who entered several competitions and shows. She recalls one show when the models seemed to be dressed identically until they started ripping off parts of their clothing, like the hems, hats, sleeves and ended up looking very different from one another. Christopher has received national and international recognition.
A designer of wedding gowns, Moretz used the rip-off idea at a bridal show where the bride's train could be removed or the jacket taken off for the reception. At that time it was very avant-garde, although now wedding dresses are designed to be adaptable, she said.
While her children, a 13-year-old son and 10-year-old daughter, were growing up, she gave up her business but turned her hand to interior design, which she still does.
Moretz enjoys making special occasion outfits and costumes for her children and has a lending closet full of costumes that neighbors and friends borrow. Clifford, the Big Red Dog, is one of her creations as well as the tiny bridal gown and Bo-Peep. Tweedle Dee and Tweedle Dum (renamed Tweedle Dumb and Tweedle Dumber) were created for her son and his friend one year.
Now her career has taken another turn, and she has taught apparel design at UD for two years. "I thoroughly enjoy teaching and working with students and bring 20 years of experience in the fashion design field into the classroom," Moretz said.
Article by Sue Monure
Photos by Kathy Flickinger