"Understanding International Terrorism Today" is the timely theme of the Global Agenda lecture series at UD this spring. Featured speakers include the U.S. ambassador on whose watch the U.S.S. Cole was bombed in Yemen; a former top Pentagon official who, for more than a decade, coordinated terrorism-preparedness; and an author who is one of the few westerners who has actually met Osama bin Laden in Afghanistan.
All speakers will appear at UD at 7:30 p.m., on selected Wednesdays, beginning Feb. 20, in Room 128 Clayton Hall.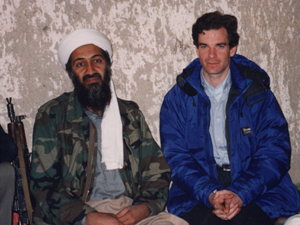 Journalist Peter Bergen, who interviewed Osama Bin Laden for CNN
"There is no time when the issues surrounding international terrorism are more pertinent to our lives than now, following the attacks of Sept. 11, 2001," Ralph Begleiter, Rosenberg Professor of Communication and coordinator of the series, who served for 18 years as CNN's world affairs correspondent, said. "This is an extraordinary opportunity to learn from practitioners of political, diplomatic and military policy and from the media who cover international terrorism."
The series begins on Feb. 20 with "The Mind of a Terrorist," presented by Peter Bergen, author of the current best-seller "Holy War Inc.: Inside the Secret World of Osama bin Laden" and the producer of CNN's 1997 ground-breaking interview with bin Laden, who is now being hunted for organizing the Sept. 11 attacks and others. Bergen is one of the few Westerners who has actually met bin Laden. He has traveled frequently to Afghanistan, Yemen, Pakistan and Kashmir, where the al Qaeda network flourished. A book-signing event, planned in conjunction with the lecture, will be held from 1-2:30 p.m., on Feb. 20, at Rainbow Books and Music on Main Street in Newark.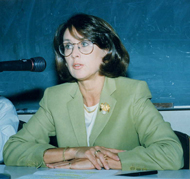 Barbara Bodine
On Feb. 27, Marcelle Wahba, U.S. ambassador to the United Arab Emirates, will present "The Arab Street." An Egyptian-American, Wahba previously served for many years in the U.S. embassy in Cairo, the political hub of the Arab world. Her experience in the Arab world gives her powerful insight into the nexus of American and Arab political thinking.
"Living with Terrorism: The Israeli Experience" will be presented by Martin Kramer, editor of the Middle East Quarterly and former director of the Moshe Dayan Center for Middle Eastern and African Studies at Tel Aviv University, on March 13. Kramer's latest book is "Ivory Towers on Sand: The Failure of Middle Eastern Studies in America." He is an acknowledged expert on the Islamic world.
"Political Islam" will be the topic on March 27, with Barbara Bodine. As U.S. ambassador to Yemen, Bodine was on duty in October 2000 when terrorists linked to Osama bin Laden bombed the U.S.S. Cole. Later, shots were fired aboard her aircraft in a hijacking attempt. She served in the U.S. embassy in Baghdad before the 1991 Gulf War and was number two in the U.S. embassy in Kuwait when Iraq invaded in 1990. She directed the State Department's counterterrorism office when she returned from the Middle East.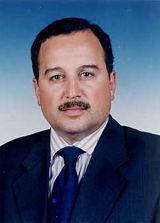 Nabil Fahmy
On April 10, Nabil Fahmy, Egypt's ambassador to the United States, will present "A Delicate Balance." Egypt's struggle to combat terrorism and extremist Islamic groups while remaining a strong Arab leader has been a hallmark of its recent history, including its hosting of an anti-terrorism world summit meeting in the mid-1990's. Fahmy played an influential diplomatic role behind the scenes in Arab-Israeli peace negotiations after the Gulf War, leading to the Palestinian-Israeli Oslo accords and to the Jordanian-Israeli peace treaty.
Pamela Berkowsky, a terrorism-preparedness coordinator for the Pentagon, will present "A Longtime Challenge" on April 24. Berkowsky joined the Pentagon during the closing days of the Reagan administration. More than a decade and a half as a top military adviser, she dealt with chemical, biological and nuclear terrorism, among other issues.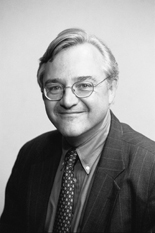 E. J. Dionne
The series wraps up on May 8 with "Crossfire," a presentation by E.J. Dionne, a syndicated columnist for the Washington Post. Dionne's work appears in more than 90 newspapers nationwide. He is also a senior fellow at the Brookings Institution. Although he focuses primarily on domestic issues, Dionne critiques terrorism policy for American officials and opinion leaders through his columns. Before beginning his op-ed column, Dionne reported for The New York Times and the Washington Post for 17 years.
The program is sponsored by the World Affairs Council of Wilmington, the University of Delaware's Center for International Studies and departments of Communication and Political Science and International Relations.
More information on UD's Global Agenda series can be found online at [www.udel.edu/global] or by calling 831-2355.
Feb. 13, 2002