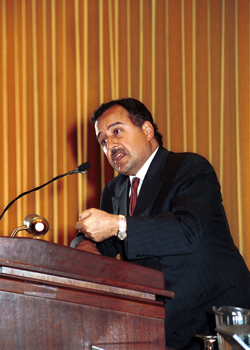 Nabil Fahmy, Egypt's ambassador to the United States, discussed the delicate balance of nurturing a peace agreement in the Middle East on Wednesday, April 10, in Clayton Hall.
This lecture was the fifth in the Global Agenda series "Understanding International Terrorism Today."
Fahmy, who has represented Egypt in United States affairs since October 1999, is a career diplomat who has played an active role in the numerous efforts to bring peace to the Middle East. He also is internationally recognized for his expertise in the field of disarmament and international security.
He has led a distinguished career in foreign service and has prioritized forging an understanding between the Western countries and the Middle East.
"The world today is closer together than it ever was," Fahmy said. "When addressing horrible tragedy, it is important to address understanding."
As citizens from all over the world are growing closer together from globalization, Fahmy argued that it would be impossible to ignore each other by living in isolation.
He also spoke about the Sept. 11 tragedy and the problems that Egypt has experienced in the past, namely terrorist attacks by Egyptian citizens.
"What happened on Sept. 11 was what we were trying to tell people for years and years," Fahmy said.
He said that the Egyptian government has repeatedly attempted to prosecute Egyptians who had been previously involved with terrorist attacks before Sept. 11, but, he said, Western countries refused to send some Egyptian followers of Osama bin Laden back to Egypt for prosecution.
"The terrorists took advantage of civilized society, and civilized society could not organize themselves," he said..
The Global Agenda series continues on April 24 with Pamela B. Berkowsky, former assistant chief of staff to the secretary of defense for terrorism preparedness. She will speak at 7:30 p.m. in Clayton Hall.
Previous lectures are now available on video and can be found online at [www.udel.edu/global].
The 2002 Global Agenda series is made possible with support of the World Affairs Council of Wilmington, as well as the University's College of Arts and Science.
Article by Erin O'Leary
April 12, 2002