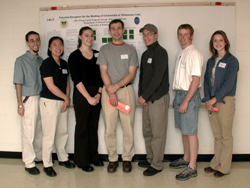 From left Justin DiAngelo, Alice Wong, Cortney Smith, Eugene Antipov, Kevin
O'Hayer, Michael Usher and Suzanne Biehn.
Students Suzanne Biehn, biological sciences, and Justin DiAngelo, biotechnology, were awarded first-place prizes for their genetic research poster presentations at the Undergraduate Research Poster Session of the 2002 Experimental Biology Meeting, held April 22-24 in New Orleans. UD was the only institution to receive more than one first-place award in the poster competition, out of 77 entries in the national contest.
The annual meeting, now in its 11th year, brought more than 14,000 biomedical researchers from dozens of disciplines and countries to New Orleans to exchange information about the newest scientific concepts and discoveries expected to shape future medical advances. The theme of this year's meeting, "Translating the Genome," underscored its focus on the decoding the complete set of genes in the human body providing science with a new tool in understanding how the body develops defects and disease.
Seven UD Howard Hughes Medical Institution (HHMI) scholars traveled to New Orleans to compete in the poster session sponsored by the American Society for Biochemistry and Molecular Biology (ASBMB). In addition to Biehn and DiAngelo, UD was represented by Eugene Antipov, chemical engineering and biochemistry; Kevin O'Hayer, biological sciences; Courtney Smith and Alice Wong, both medical technology; and Michael Usher, biological sciences. They each received travel supplements by the ASBMB to attend the national meeting. Accompanying the students were Gregory Stephens, associate professor of biological sciences, David Usher, associate professor of biological sciences; and Harold B. White, professor of chemistry and biochemistry.
Biehn's research involves embryonic muscle development, specifically how a membrane system involved in intracellular calcium control is generated during muscle formation. Working with Jeremy M. Lyons, research associate, and Kirk J. Czymmek, associate professor of biological sciences, she introduced the muscle gene, encoding a calcium transport protein into cultured nonmuscle cells, then measured the effects of the protein's expression on membrane biogenesis. Her results suggest that this protein can induce the formation of a new membrane through a process that may mimic muscle development.
Her mentor, Norman J. Karin, associate professor of biological sciences, said he wasn't surprised at how well Biehn did. "She is a complete joy and an outstanding student who has more energy that any person I've ever worked with."
.DiAngelo, working with Trusha Kirit Vasavada, research associate, and William Cain, assistant professor of biological sciences, has been examining the formation of Pop 12/BVES genes expressed in the heart tissue of chicken embryos and the role it plays in the processes of heart and muscle development and degenerative muscle disease.
Cain said DiAngelo is a "great student who was a pleasure to teach." DiAngelo's mentor is Melinda Duncan, assistant professor of biological sciences.
Last year, six HMMI undergraduates competed in the poster competition for the first time with three of the six winning honors.
Article by Barbara Garrison
Photos by Kathy Flickinger
May 2, 2002