Global Agenda speaker to address 'Delicate Balance' April 10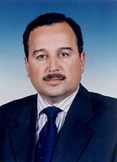 Nabil Fahmy, ambassador of the Arab Republic of Egypt to the United States since October 1999, will present a lecture, "A Delicate Balance," at 7:30 p.m., Wednesday, April 10, in 128 Clayton Hall.
The lecture is part of the continuing Global Agenda 2002 series, which is focused on the topic "Understanding International Terrorism Today."
Ralph Begleiter, Rosenberg Professor of Communication and a former foreign correspondent for CNN, is the moderator for the series.
Fahmy is a career diplomat who has played an active role in the numerous efforts to bring peace to the Middle East. He is also internationally recognized for his expertise in the field of disarmament and international security.
Fahmy served as Egypt's ambassador to Japan from September 1997 to August 1999. Prior to that, he served as political adviser to the foreign minister from August 1993 to September 1997. He also served as a senior disarmament official, Department of International Organizations, Ministry of Foreign Affairs and was a member of the Egyptian mission to the United Nations (disarmament and political affairs) in Geneva and New York. He was also a member of the cabinet of the deputy prime minister of foreign affairs. He served as adviser in the cabinet of the vice president of Egypt and as a member of the cabinet of the secretary of the president for external communications from February 1974 to August 1976.
Fahmy's expertise has led him to participate in numerous Egyptian delegations dealing with Middle East peace and disarmament regional security issues. He chaired the U.N. secretary general's Advisory Board of Disarmament Matters in 2001. He headed the Egyptian delegation to the Middle East Peace Process Steering Committee in 1993 and the Egyptian delegation to the Multilateral Working Group on Regional Security and Arms Control emanating from the Madrid Peace Conference in December 1991. He was elected vice chairman of the First Committee on Disarmament and International Security Affairs of the 44th Session of the U.N. General Assembly in 1986.
Fahmy received his bachelor of dcience degree in physics/mathematics from the American University in Cairo in 1974 and his master of arts in management in 1976.
April 8, 2002