From Our President
Excerpt from President Dennis Assanis' Inaugural Speech,
Dec. 7, 2016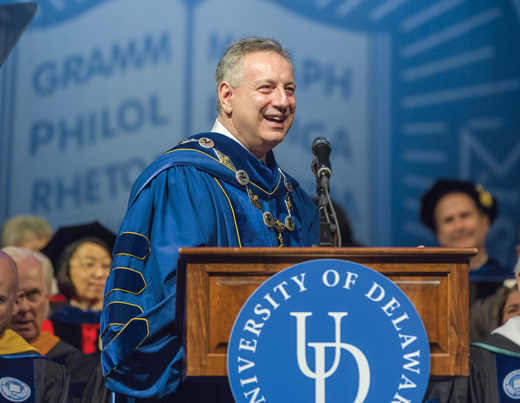 For more than 270 years, the University of Delaware has brought forth knowledge and enlightenment, has contributed scientific achievements and profound ideas, has transformed lives and has changed the world. Indeed, UD has grown into one of the top academic institutions in the country, strengthened by a culture of global connectivity. As human beings, that is why we are all here—to become connected to something far more powerful than ourselves.
So now we must all ask together, "What's next? How do we take this rich legacy of discovery, progress and people forward? How can we impact a new generation? How can we ensure that our University not only endures, but thrives, for centuries to come?"
I am often reminded of a word used by Homer: "ἀρετή," (arête), meaning the constant drive for virtue and excellence. This drive captures our shared aspirations, defines our shared goals, and shapes our ability to meet the next great challenges of our future.
Our students' success will be defined by cross-cutting themes of inclusive excellence, an interdisciplinary and global perspective, and a spirit of innovation and entrepreneurship — all enabled by sustained investment in our intellectual and physical capital. We will cultivate in our people an ethos that values education, research, scholarship and engagement. We will develop the STAR Campus as a hub of innovation and the beating heart of our region's economy. The opportunities are virtually endless … and endlessly exciting. This is a place where we have both the obligation and the privilege to make a difference, to stimulate minds, to always learn, explore, wonder and persevere. With knowledge comes insight, and with insight … an opportunity to connect values with vision to create positive change for society.
Ahead of us lie infinite possibilities. Drawing on the endless inspiration of my colleagues and the limitless potential of our students, I believe we will continue to build a University that defines success by the values we shape, the intellectual curiosity we cultivate, and the courage we inspire to make a difference in our world.
I am committed—with my whole heart and soul—to making our shared vision a reality.
Dennis Assanis
President, University of Delaware