Athletics: Delaware ties run deep for UD head coaches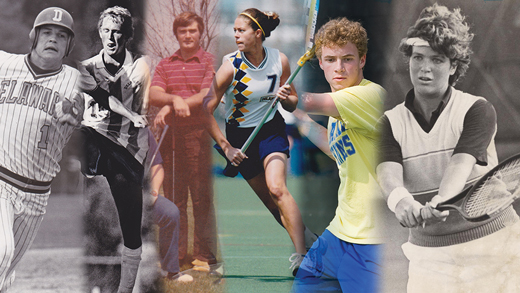 Photo montage by Maggie Hayon
OUR UD | UD school spirit is strong among our Blue Hen nation of students, alumni, parents, faculty, staff and friends.
So it is no surprise that the University of Delaware athletics coaching staff is brimming with alumni who returned to Delaware to transform their Blue Hen pride into coaching careers, mentoring the remarkable student-athletes who call UD home.
This year's coaching staff boasts six standout alumni head coaches.
Jim Sherman, AS82, Head Coach, Baseball
Serving as baseball's head coach for 15 years, Jim Sherman has made noteworthy contributions to the team's overall success by leading the Blue Hens to conference tournament play nine times, 10 winning seasons and a coaching record of 443-372. He is noted as one of the top hitting instructors at the collegiate level, teaching his team the same aggression at the plate that he possessed as a player at UD.
A resident of New Castle, Delaware, Sherman was "born and raised a Blue Hen" and has been tied to the community for many years, beginning as a fan of UD, then a student-athlete and now, head coach. Sherman has been inducted into both the University of Delaware Athletics Hall of Fame in 2009 and the state Baseball Hall of Fame in 2008 for his noteworthy accomplishments as a former player and coach.
"The best part of coaching is the relationship you build with players that is ongoing and lasts forever," says Sherman.
Scott Grzenda, HS87, Head Coach, Women's Soccer
The longest standing alumni coach (25 years) and first head coach of the women's soccer team, Scott Grzenda was a student-athlete on the men's soccer team from 1983-88. A three-time All-East Conference selection and recipient of regional All-American honors, Grzenda still ranks on Delaware's all-time Top 10 list for goals scored and points. Today, he lends his expertise as a coach and mentor, applying the same values and goals he was taught as a student-athlete.
As far as practice goes, Grzenda states, "I still do a lot of work in grids and defense, because as players that's what we did."
Though he remarks that the game of soccer has changed immensely, the players' drive to succeed and allegiance to their team is the same as when he attended the University.
Mike Keogh, AG73, Head Coach, Golf
As a Blue Hen student-athlete, Mike Keogh was a letter winner and noteworthy athlete who posted an 11-7 dual record with his squad. He has rallied his teams through many successes in the past 14 years, including top five finishes in 109 tournaments and coaching several golfers toward professional play.
Keogh aims to instill in his players the same values taught to him as a student-athlete, such as proper course conduct and ensuring his players are gracious toward their hosts.
The best parts of coaching are "being able to keep my father's memory alive on the golf course, along with what I learned from former coach Scotty Duncan, and being able to do that with the kids I coach today," says Keogh.
Kateri Linville, HS03, Head Coach, Women's Lacrosse
Kateri Linville has made her mark not only as a coach, but as a student-athlete. She was a three-year letter winner and was honored on the Intercollegiate Women's Lacrosse Coaches Association National Academic Honor Roll. Head coach of women's lacrosse since 2010, Linville has led her teams to two consecutive winning seasons—a total of 44 victories—and helps to guide the team intellectually as well. Linville sets academic standards that earned her team one of the highest GPAs among Blue Hen squads for the last seven years.
One of the vital factors in her decision to serve as head coach was "being around young people who have so much ahead of them and helping them get to their future."
Linville states that "the stars aligned" in returning to her alma mater and "it was a great step professionally to be in a place where we could compete at a national level in conference."
"It's the little moments that make Delaware special, whether it brings back memories or makes new ones," Linville adds.
Chris Hincker, HS11, Head Coach, Men's Tennis
The most recent alumni addition to the Blue Hen coaching staff, Chris Hincker completed his first season as head coach of the men's team in April.
As a student-athlete at Delaware, Hincker served as the tennis team captain and was a standout player, with a record of 69-63 in career singles, the third best record in UD history.
As a new coach, Hincker recognizes the opportunity to create values and traditions of his own, while sharing what he was taught in his college career.
"I am looking forward to moving the team along positively and moving up the level of play," he says. "It is great to be here, I really enjoy being the head coach."
Laura Travis, HS90, Head Coach, Women's Tennis
Laura Travis is one of the longest serving alumni coaches at the University of Delaware, now in her 24th season leading the women's tennis team and previously guiding the men's squad for 21 years. Travis (née Leroy) accepted the position at UD as head coach just three years after graduating and has since led her teams to many successes including a combined record of 480-321.
While a student-athlete at the University, Travis stood out as a player, earning a four-year title as Most Valuable Player, four-time East Coast Conference champion in singles and doubles and two East Coast Conference team titles.
"The first day of tennis tryouts, I knew, 'This was it, this is what I want to do,'" Travis says. "I am beyond grateful that I have been able to take that passion and turn it into a career."
Following the traditions of Delaware tennis, Travis states, "We use some of the same drills and try to emulate the same standards of professionalism" she learned as a player.
Article by Erin Dunne, BE16