Outstanding Seniors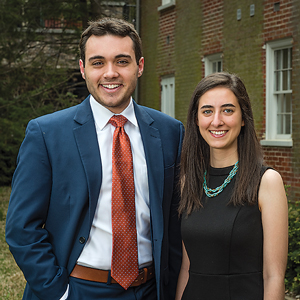 OUR STUDENTS | Elizabeth Quartararo, AS15, and Mark Rucci, AS15, were selected as recipients of the Emalea Pusey Warner and Alexander J. Taylor Sr. awards, the University's highest awards to graduating seniors.
Given annually to the "outstanding woman and man" of the graduating class by the UD Alumni Association, the awards recognize seniors who most exemplify leadership, academic success and community service.
Elizabeth Quartararo, who earned her honors degree with distinction with majors in English and public policy and a minor in history, served as the editor-in-chief of UD's student newspaper The Review from 2014-15. She helped lead the paper through a successful fundraising effort as well as a print and award-winning online redesign.
Her passion for journalism along with her interest in public service and youth development led Quartararo to found her own nonprofit organization while a sophomore at UD. Project Lede is an educational intervention program designed to provide a journalism curriculum for underserved schools that is intended to help empower middle school students and provide them with skills for academic and social success. Project Lede currently serves four middle schools in the Northeast.
Richard Jones, visiting professor of English and associate editor of The New York Times, wrote in his recommendation, "Elizabeth is courageous and thoughtful, she doesn't back away from a challenge, and she has a moral and ethical compass that is firmly pointed in the right direction."
Mark Rucci, who earned an honors degree in public policy and a minor in legal studies, has been called "a shining example of what a young man can accomplish both in his community and far beyond it" by one of his professors. This summer, he received a master's degree in public administration as a part of the University's 4+1 BA/MPA program.
Rucci's areas of interest include public education policy, American politics and law. He has served as a Legislative Fellow on the Education Committee in the Delaware House of Representatives, a judicial intern in the Superior Court of New Jersey, a teaching assistant in the School of Public Policy and Administration and a policy intern in the U.S. Department of Education.
He has studied abroad at the Universidad de Granada, Spain, and volunteered in Nairobi, Kenya.
George Watson, dean of the College of Arts and Sciences, said, "Mark epitomizes the true 'triple threat' in leadership, academic success and community service."