UDance breaks fundraising record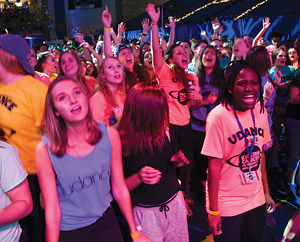 OUR STUDENTS | UDance, the University's largest student-run philanthropic organization, raised a record-breaking $1.28 million in donations toward the fight against childhood cancer.
The total was announced during the organization's annual dance marathon held earlier this spring at the Bob Carpenter Center.
Students and staff at UD participated in a yearlong effort to raise funds and awareness for childhood cancer that culminated in a 12-hour dance marathon on Sunday, March 22. This year, the event raised $1,282,103.30 for the Andrew McDonough B+ Foundation, which provides financial assistance to families struggling to fight the disease and supports research toward finding a cure.
The event united students, staff, family members, local businesses and the Newark community as a whole under the shared principle of fighting for a cancer-free future.